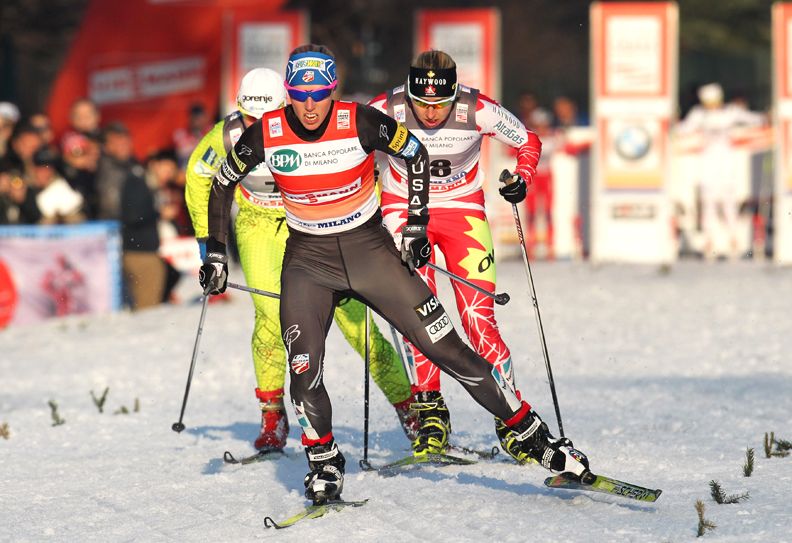 January 16, 2012 (Milan, Italy) – It was a historic day for North American's female skiers at the FIS WCup 6×1.4km free team sprints in Milan on Sunday, with both the U.S. and Canadian squads sharing the podium in the silver and bronze medal positions, respectively. The Swedish duo of Hanna Brodin and Ida Ingemardsdotter scored gold.
This was Jessie Diggins first Team Sprint ever so landing on the podium was uber-special for the Afton, MN native. She suffered two crashes during the competition but dusted herself off, kept her cool, and came back for more.
For Randall it was another brick in the wall as the Sprint WCup leader continues her march toward claiming the Red Leader's bib for good this season – with six events remaining and a strong lead in the series things are looking up for Randall.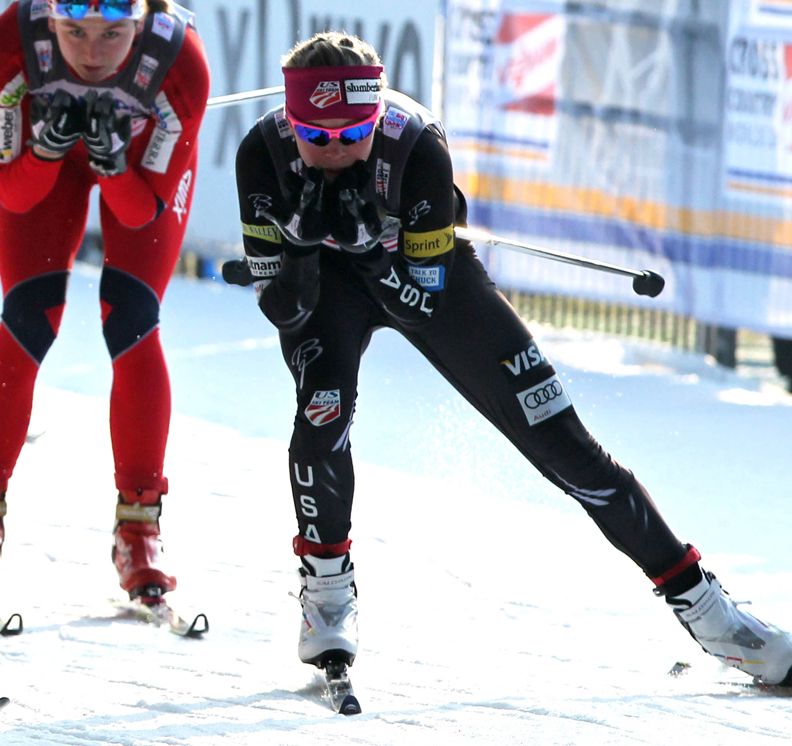 SkiTrax spoke with the U.S. team's Randall and Diggins after their silver-lined effort and learned how they overcame a fumbled exchange to regain their medal spot. We reached Randall first by email (see below) then caught both in the team car as they jetted out of Milan on their way to Seiser Alm for a break and some training before the upcoming WCup in Otepaa, Estonia this coming weekend – great team pic HERE.
Jessie Diggins

Kikkan Randall

Congrats on an amazing day. How was the start?
Kikkan Randall: The start was good, pretty uneventful. Jessie started near the back but did a good job of getting right in the pack.
How congested was it on the Milan course?
KR: It was definitely pretty narrow, and without any major terrain changes, everyone was going the same speed and it was hard to pass.
How were your skis today and conditions on the track?
KR: Conditions were much firmer and faster than yesterday. Our skis were running really well. We each raced on our two fastest pairs.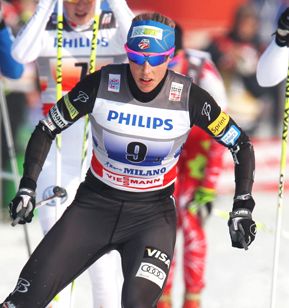 You and Jessie have never raced together like this – what kind of prep did you do?
KR: Yeah, we hadn't raced together before and Jessie had actually never even done a team sprint before. So we talked strategy before the race, Sadie passed along some advice from Ddorf, and we practiced some tags in the warmup.
It's hard to predict these kinds of races, but did things play out as you expected?
KR: More or less, yes. There was a lot of teams changing places, depending on tags and crashes, etc. We wanted to get in a good position early and then move up through the race.
The exchanges are crucial – can you describe the tension and feeling during the exchanges?
KR: The exchange zone was really close coming off the final turn, so it was always hard to line up for your teammate. Everyone was coming in so fast and together that it was hard to navigate without collisions.
What happened on the crash exchange?
KR: I think another skier cut right in front of Jessie just before the tag. I was already accelerating, thinking we were about to have an awesome tag, when I felt Jessie crash into me. I didn't feel the hand to body contact though so I had to stop and go backwards toward her. She fell again as we tagged, but we got the right contact this time and I had to charge after the pack, which had already turned the corner.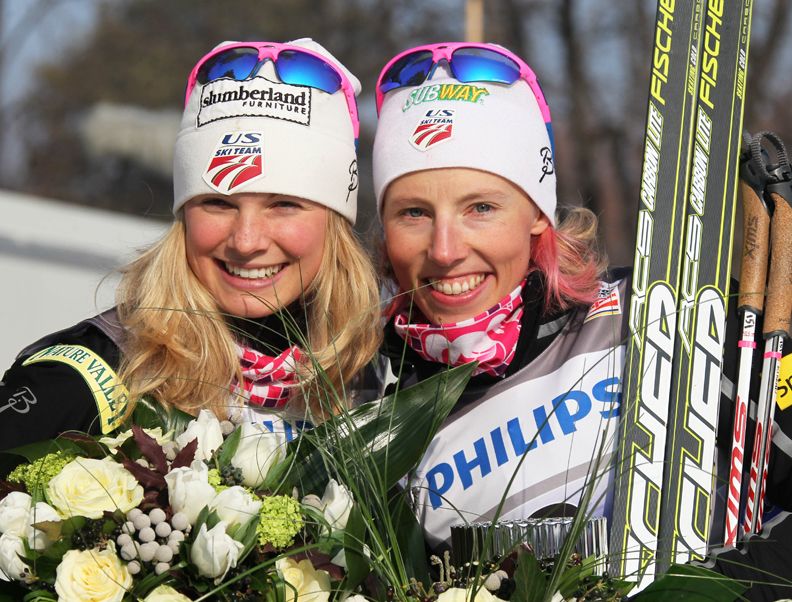 What was going thru your mind as you tried to catch the pack?
KR: I knew I still had a shot to get back up there, so I chased hard to make up the gap. Just as I got on the back, the pace picked up again and I had to dig one more level.
Jessie really got after it on her final lap and then we nailed the final tag, which shot me into the lead going into the final leg. I didn't really want to lead, but I tried to keep the pace high to hopefully wear out some of the others.
On the final stretch, did you think you could catch Ingemarsdotter?
KR: She made a good acceleration with 200m to go and got a little gap. I tried to close back up, but the finish stretch was so fast today and my legs were pretty flooded.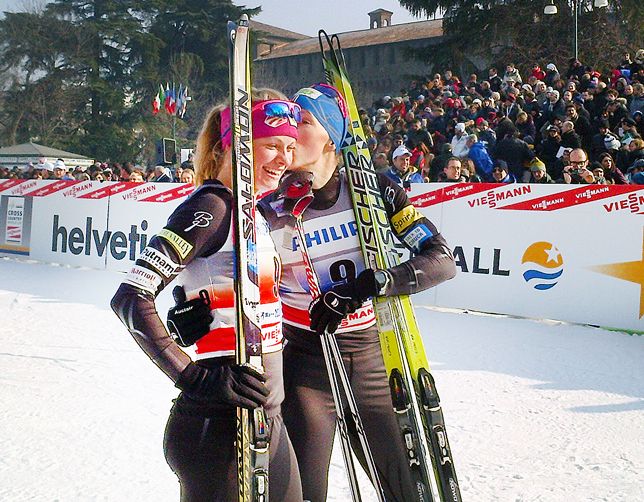 Did you know Chandra had moved up so well and was now challenging you?
KR: I didn't realize it was Chandra coming up until we were meters from the line. Really awesome to see her have such a strong finish. I had to make a big lunge to hold her off.
It's got to feel good to land another Team Sprint silver and make history with Team Canada?
KR: At our joint camp in Alaska last summer, we talked a lot about getting more North Americans on the podium and so it was great to get the double podium today. It's really a symbol of how far we've come!