January 28, 2018 (Ridnaun-Val Ridanna, Italy) – The USA's Susan Dunklee and Lowell Bailey capture the bronze medal on Sunday in the single mixed relay at the IBU Open European Championships in Italy with 10 spare rounds at 9.1 seconds behind the winners Thekla Brun-Lie and Vetle Sjaastad Christiansen from Norway.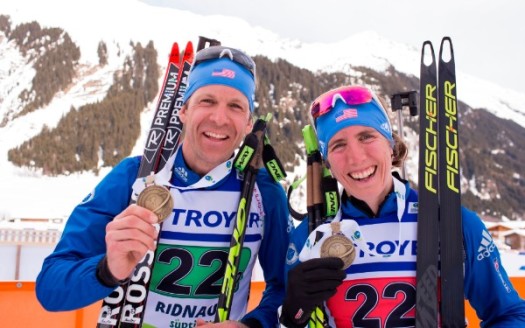 Canada's Sarah Beaudry and Carsen Campbell finished 8th with eight spare rounds at 1:03.6 behind the winners. Norway used six spare rounds and was followed by France in second with 11 spares at 8.6 seconds back.
"Over Christmas, we trained a little bit with the French athletes, including Jacquelin," said Bailey. "So I know that he has quite a fast finish, and I thought I am kind of an old man here, I should maybe try to go harder on the first part of the lap. But he stayed with me all the time and had me in the end."
"It was a good opportunity to tune up the race shape, build some confidence and find that sharp feeling heading into the Olympics," Dunklee said about the event. "The single mixed relay is one of my favorite race formats and today was a blast!"
Later in the day, the U.S. foursome of Chloe Levins, Deedra Irwin, Paul Schommer and Alex Howe finished 17th in the mixed relay.
Results here. http://biathlonresults.com/