February 04, 2018 (Lacolle, Que.) – We are sorry to report that Allan Daigneault, 55, a long-time friend and associate to many cyclists, cross-country skiers and the Canadian Sporting Goods community has passed away.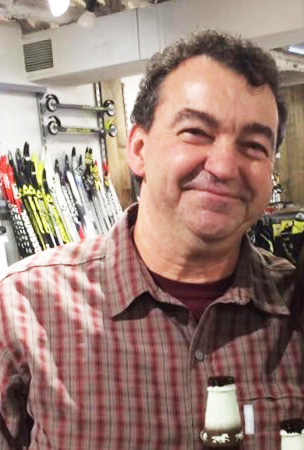 Daigneault was very popular and known for his upbeat personality, quick smile and lend-a-hand attitude. His humble demeanor, laughter, memory of names, and endless knowledge of product and sport will be sorely missed. Daigneault was fun to be around and could brighten anyone's day.
His first began selling Miyata and Limongi bicycles back in 1989 and later was involved with Brodie bicycles forming his own sales agency along the way. He became involved with cross-country skiing as well working with Alpina, Madshus and Vauhti. His legacy in the industry will last forever.
Daigneault is survived by his beloved wife Charli Ferguson, his mother Willa Smart Daigneault, sister Alyson, brother David, sister-in-law Betty-Ann Goodwin, mother-in-law Lena Slowski Fedyk, nieces, relatives and friends.
Please join the family at 1:00 p.m. for a celebration of life for Allan on Febuary 7, 2018 at Leodore-Ryan Community Centre, Lacolle (10 Ste-Marie Street). Coffee and squares will be served.
Arrangement entrusted to:
Serre & Finnegan
48 rue de l'église N
Lacolle, Que., J0J1J0
450-246-3988 | 1-800-263-3074
www.serrefinnegan.com
In lieu of flowers a donation to Canada's young athletes via gg.gg/AllanCelebrationoflife would be appreciated.
Pedal joins the sporting goods community in sending condolences to Daigneault's family and friends.