December 23, 2015 – This past spring, Alberta's Kevin Sandau, 27, was cut from Cross Country Canada (CCC)'s senior development team, along with Michael Somppi and Heidi Widmer. Sandau created a dramatic video called "The Sandau Affair" as a parody to express his concerns and disappointment with the current National Team's selection process and system, a problem which is not unique to Canada. Widmer, who has dual citizenship, opted to race for the Swiss national team and is having a successful season so far.
Athlete selection for national teams and major events is an age-old debate and can involve the legal system. The rights of both sides are meant to be equally protected with resolution processes in place should disputes arise. Athletes often choose to remain silent, as the process can be draining and expensive, and there is a fear of potential future reprisals or being labelled as trouble makers.
We contacted Thomas Holland, CCC's High Performance Director, and Sandau for their perspectives to shed some light on this sometimes heated debate as athletes' careers are on the line.
Holland contends that the decisions regarding Sandau were based on objective criteria: "We are pleased that Kevin has continued to ski this year and be a part of the Alberta World Cup Academy (AWCA), which is part of Canada's National Training Centre system. As for failing to be named to the Senior Development Team for this season, the objectives for athletes over the age of 25 being named to this team is top 30 World Cup, World Championship or Olympic Winter Games (OWG) results. The High Performance Committee does take into consideration results over the previous three years in making these selection decisions."
Sandau agrees, but feels changes are in order: "I knew I didn't meet the criteria; that was not a surprise. I knew eventually my status wouldn't be renewed, but my objection is with the lack of process."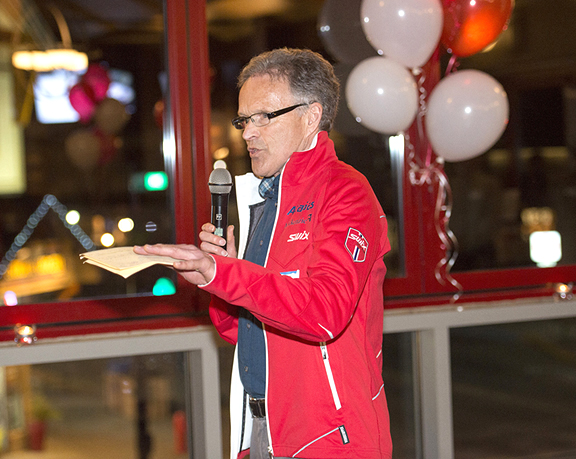 What is the process? In Holland's words: "Firstly, in terms of high performance athlete development and performance, CCC has to find a balance between supporting our podium potential athletes for the 2018 Pyeonchang OWG while still concentrating sufficient resources to facilitate support for athletes that have met podium pathway metrics defining podium potential for 2018 and 2022. These are often difficult decisions that are taken on the advisement and deliberation within our High Performance Committee. These decisions are taken looking back on a multiple year window of performance and data analysis based on international results and our international performance benchmarks. Kevin Sandau is a very disciplined athlete who had some notable results as junior and U23 athlete."
Sandau counters that the process is often subjective: "There is a huge coach's bias," he says pointing to the Haywood NorAm Junior/U23 Worlds Trials weekend at Duntroon, ON in January of this year. "Killick won the 30km Skiathlon by a fair margin, but then I won the 15km by a good chunk. After both races, we were tied; it came down to a coach's selection."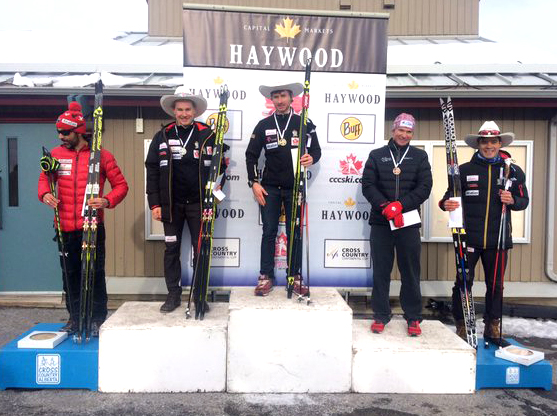 From all this, Sandau recommends incorporating more outside opinion into the process. Sandau was also miffed that he was not contacted properly about being cut from the team.
"Actually Kevin's concern is that he was not directly informed by Cross Country Canada staff. Athletes were on holidays at that time and proper communication became an oversight – for that Cross Country Canada apologizes," commented Holland.
Sandau remains disillusioned with this part of the procedures. "He apologized…yes, I also heard that from another reporter. But I haven't actually heard that from Tom directly. This happened six months ago; an apology is not necessary anymore. The lack of communication has been going on for some time. There was a trip to Russia and I found out from other athletes that I was not going. Bad news should be from Tom who seems to lack in communication; Justin [Wadsworth, head coach] struggles with that as well."
Unclear guidelines were an issue when Sandau declined a quota spot to compete at this season's World Cup in period 2 (earned by being the NorAm leader last season). "I was under the belief since the summer that CCC wasn't taking anyone older than 25 even if they were the COC (Continental Cup Series) leader. The selection criteria is confusing as it states for the B-tour that concludes with the last two weekends of period 2 World Cup racing, that the COC leader must be under 25 to be eligible. It was only when I ran into Tom after our phone call that he mentioned the spot – but I was also out of cell reception for the few days leading up to that."
We wondered if CCC's priority is on developing new talent or helping existing talent develop further.
Holland submits that CCC is doing what it can: "To succeed internationally, CCC must always being working diligently on both of these important priorities within our financial limitations. CCC uses international performance benchmarks which have been developed on a significant database to help guide decisions as to which talent is the optimal group of athletes to meet our international objectives; these standards to some extent are influenced by some of our sport partners who subsidize our programs."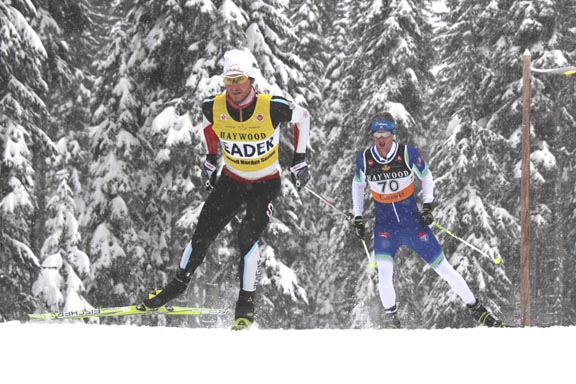 Sandau feels that mature athletes play an important role in the process and deserve more attention. "CCC should stop pushing out older athletes. We need more women skiers like Andrea [Dupont] who is role model. For a lot of younger skiers, if someone older bests them, it ignites their drive. She's not taking away opportunities."
Holland expressed that it is also harder for North Americans: "Skiers that have met our international performance benchmarks certainly need more support than European skiers. North Americans have more limited domestic race opportunities due to our geography than Europeans. We need more high level races for these athletes and travel to Europe is comparatively expensive; while Europeans can often go home on weekends, North Americans have to pack up and move to the next hotel. Our athletes have to be very dedicated to meet the European challenges."
While Sandau used different words, he essentially made the same points on that subject, but contends that CCC is primarily supporting skiers under 25 years old. "CCC is scared of making changes. Once Alex Harvey retires, there will be a huge void; athletes haven't been developed. CCC's quota spots go unfilled; on the women's side it's abysmal. CCC seems to be pushing out older women but competing is the best thing for athletes to do to get better. Look at the USA; they fill their quota spots. They took Brian Gregg (age 31) to Davos, Switzerland to race; age doesn't matter. Many world cup athletes from other countries are up to 35 years old."
Holland counters that there is no age discrimination: "We have multiple opportunities still for athletes over 25 who are not on the National Ski Team. The FIS (International Ski Federation) COC positions are open to all skiers. Ski Tour Canada 2016 will have World Cup starts for 12 women and 14 men – there is no age cap for these positions," maintains Holland.
Sandau is slated to take part in Ski Tour Canada 2016, skiing with AWCA under the Team Canada umbrella, and has high hopes, especially for the Canmore stages. "I know the trails and will have the home field advantage. Canmore's altitude and terrain play to my strong suits. I'm working my butt off to do well there… a top 30 would be nice," he added.
As mentioned above, Widmer who was also cut from the Canadian senior development, is having a successful season with the Swiss national team – on Dec. 13 she qualified for the first time making making it into the top 30 in the Sprint FR at the FIS World Cup in Davos, Switzerland ending up 30th.
Somppi, despite being cut from the senior development team, was the aggregate NorAm leader from last season. Because of that, he had access to starts in World Cup period 1 and has been racing at the first four rounds that began with the Ruka Triple in Finland in November where he finished in 81st place.