October 25, 2017 (Lake Placid, NY) – The impacts of a steadily warming planet can be felt far and wide and it's one that is already dramatically changing the way winter sports facilities operate. One can install fancy lodges, speedy lifts and hot tubs until the cows come home, but snow is everything. To that end, operations have been increasing snowmaking budgets to match the threat of mother nature going on a permanent hiatus. Until recently, snowmaking was something that only happened at alpine resorts. No longer.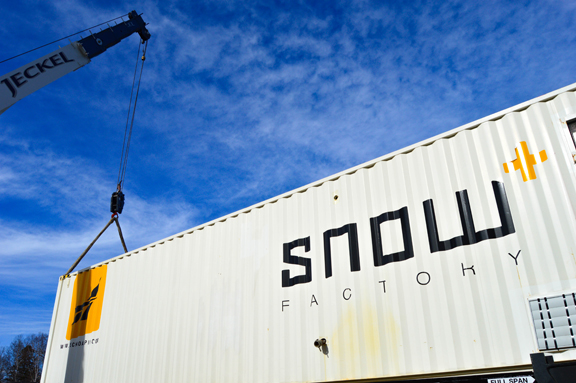 During the 2015/16 season, one marred by winter weather far below average, Nordic ski hub Mt. Van Hoevenberg near the town of Lake Placid was open for just 39 days. The next season, it was back up to 139 days thanks in part to a historic investment of $90,000 in a Snowfactory portable snowmaking system. The first in North America. SkiTrax got the inside scoop on the equipment from Kris Seymour, Nordic program manager at Mt. Van Hoevenberg Cross Country & Biathlon Center, run by the New York State Olympic Regional Development Authority – skiing is underway at Lake Placid see here.
How did Snowfactory come to Lake Placid?
Kris Seymour: The Snowfactory came to Lake Placid last season to provide snowmaking at the cross-country complex at Mt. Van Hoevenberg. It is located behind the cross-country lodge. This machine was chosen as it met a number of the needs specific to our location. The majority of Mt. Van Hoevenberg is located in a protected region of the Adirondack Park. Traditional snowmaking systems require a very specific infrastructure and require large quantities of water to be on site.  Both of these are difficult to accomplish in the locations that we need snow at Mt. Van Hoevenberg. We have an existing remote pumping station from the 1980 Olympic games but the location is far from any of the trail systems. The Snowfactory is a movable, fully enclosed structure that was able to be hooked up in exactly the place we need it and it uses power and water that was available on site. Although it is movable, for our needs it will remain next to the cross-country stadium.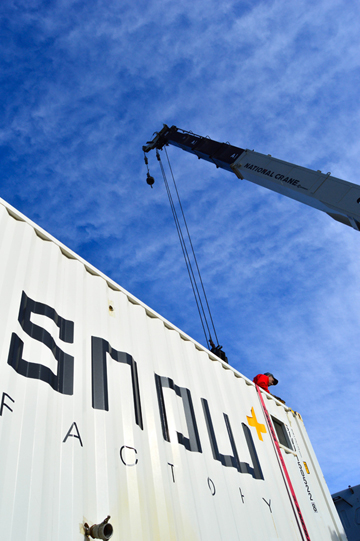 Weather and snowmaking studies indicate that the Snowfactory was a perfect solution for both our normal and anomaly winters. Our minimum requirement for consistent snow is the beginning of December thru the third week of March. Between our sport partners (US Biathlon, NYSEF, USSA, US Para Nordic, etc.), performance skiers, season pass holders, programs and recreational guests to our complex we had 35,000 skier visits last season. The expectation of these skiers is we will be open with quality conditions when they want to ski at Mt. Van Hoevenberg. This may be holiday weeks, national level races, family vacations or team practice during the week.
In normal years, the early windows for traditional snowmaking are short and spread apart, thus making it difficult to guarantee snow for the beginning of the season. The Snowfactory makes it possible to have snow when we need it. In an anomaly season like we had two years ago (15/16), we were open 39 days. There were only 164 hours available to make snow in a traditional manner and the windows were very short. This past season (16/17) we were open 139 days and just under 40% of those days were because we had the Snowfactory in operation. The Snowfactory is a game changer for Mt. Van Hoevenberg. We can decide when to start our season and meet the expectations of the Nordic community during the winter months.
Where did the Snowfactory originate?
KS: The Snowfactory is a TechnoAlpin product. The U.S. headquarters are in Denver and the international headquarters are in Bolzano, Italy. The technology has been in existence since a little before the Sochi Olympic Games and the units have been available for sale for a few years. The Snowfactory at Mt. Van Hoevenberg is currently the only one in North America. There are a couple dozen in the world at the moment, the majority are at Nordic centers in Scandinavia and Europe. TechnoAlpin has shared that a few Nordic national teams in Europe own Snowfactories.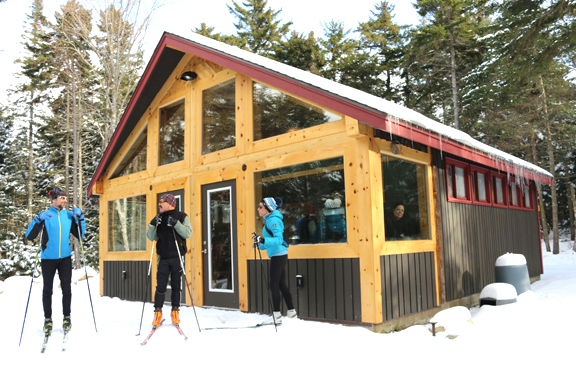 What is the snowmaking capacity of the Snowfactory and how many employees are needed to operate it?
KS: Our SnowFactory produces 3.6 cubic meters of snow an hour at an ambient outdoor temperature up to 60 Degrees Fahrenheit. This production rate is the actual measured quantity with our SnowFactory and the rate remains the same at all temperatures at and below 60 degrees.  We have not tested it yet above 60 degrees, but other sites have successfully made snow up to 80 degrees Fahrenheit.  The average tandem dump truck holds between 8 to 11 cubic meters of product.  At the 3.6 cubic meters production rate per hour, we make 86.4 cubic meters per day and 604.8 cubic meters of snow per week.
The SnowFactory uses 11 gallons of water a minute that we pull from a ground well on site. One hundred percent of the water is turned to snow that is on site. The process has no loss to wind. Water temperature does have an effect on the production rate. Our groundwater is 41 degrees Fahrenheit, generally speaking a colder water temperature produces slightly more snow over time. Snow from the Snowfactory is blown out of the machine through a 6-inch pipe. We use either a ridged or flexible pipe depending on our needs an have blown snow successfully up to 280 meters from the Snowfactory.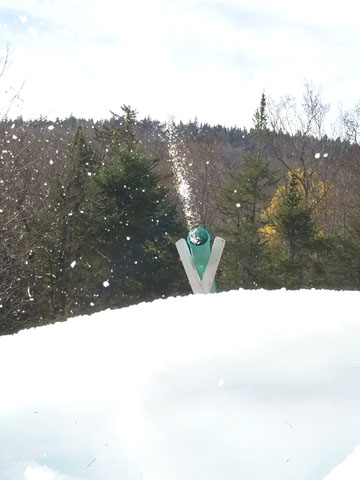 The operation of the machine requires minimal employees as all of the system and snow production is contained in a shipping container. The Snowfactory can be operated remotely from a computer or smartphone. We have a couple dedicated employees at Mt. Van Hoevenberg who maintain and oversee the production of snow with the Snowfactory. For the most part, outside of startup and shutting down, the Snowfactory is checked on every few hours by our staff. The Snowfactory has a fully automated system that will safely shut down the system if there is an issue. The movement, spreading and grooming of snow is done by our Mt. Van Hoevenberg grooming staff. For Mt. Van Hoevenberg, we use a Piston Bully 100 and 400 for snow maintenance and a typical loader and dump trailer to transport. After a stockpile of snow has been made, it requires a Piston Bully operator to push out piles and a loader operator if we are moving the snow away from any piles.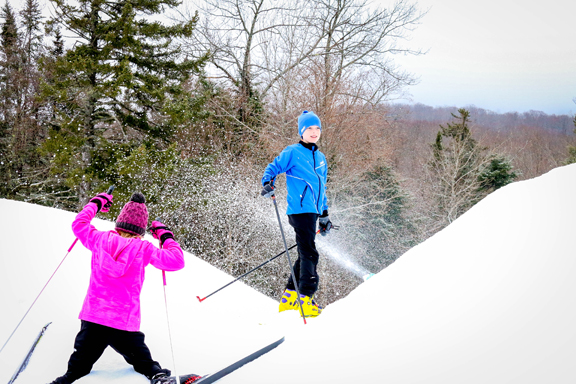 Does Snowfactory snow melt at the same rate as natural or man-made snow?
KS: Good question… it actually melts slower that both – about 2/3 slower than natural snow and 1/3 slower than man-made snow.
How much did unpredictable winter weather and the cancellation of the 2017 American Birkie and postponement of the 2017 Lake Placid Loppet impact the decision to purchase a Snowfactory?
KS: We have a Snowfactory because of unpredictable winter weather. It is impossible to run a ski business and meet the expectations of the Nordic community if we don't have snow. We didn't have the Snowfactory for the 15/16 ski season and were open 39 days. From a business standpoint this is very difficult but it is also detrimental to the support and development of Nordic sport. Individuals, families and guests that would ski at Mt. Van Hoevenberg (or any other location) are more likely to leave the sport and find other activates if they can't ski. We acquired the Snowfactory right before the 16/17 ski season and it helped us turn an OK snow winter into a great season of 139 days open. Without the Snowfactory, this past season we would have lost the stadium and connector trails just under 40% of the days we were open. Our season would have been closer to 85 days if we only had natural snow. Going into the 17/18 season, Mt. Van Hoevenberg will start the Snowfactory on Oct. 1 and stand to have skiable snow about three weeks after that date. The Snowfactory delivered and the first skiing began on Oct. 22 – see here.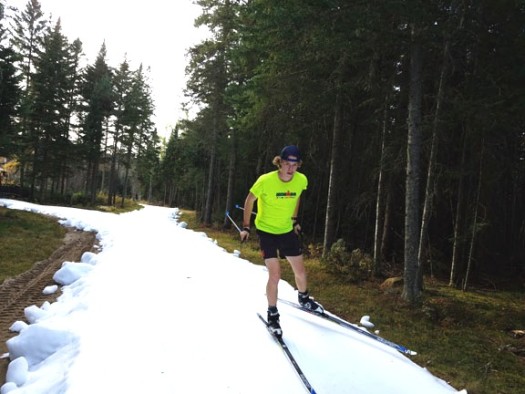 Our goal is to be open with skiable snow 150 days this season. As pioneers with the Snowfactory in North America, we are still learning how to optimize the machine and perfecting our warm weather snow management. TechnoAlpin has been helpful in sharing how others have used the Snowfactory around the planet, but to some extent all locations have their own challenges.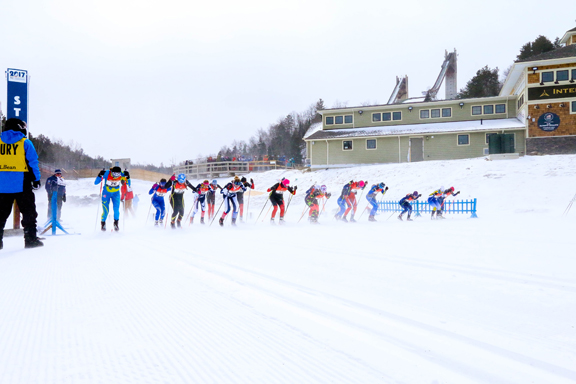 The Snowfactory has a price tag of around $700,000 US we understand.
KS: We have not purchased the snowfactory. Just like last season, the Mt. Van Hoevenberg Nordic Center and ORDA are leasing it. The two years of lease will be subtracted from the final prices when the Snowfactory is purchased.
What comments can you share on the financial impact and ORDA's interest and capacity to recoup this investment?
KS: The financial impact will be the 50 additional days of Nordic skiing at Mt. Van Hoevenberg. The goal this winter is to add at least 50 more days of skiing at the center, with the overall goal of this adding more revenue for the center. The overall goal is to create excitement within the Nordic community, so that more people purchase season passes and day passes, which will in turn bring about more revenue. While this is not a primary source of snow, it will go a long way towards ensuring that the quality of the trails remain consistent, even during the inclement winter periods.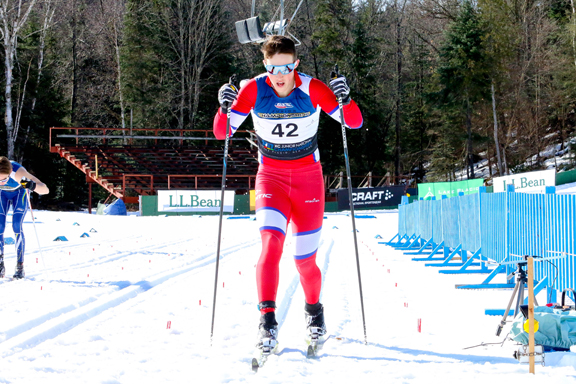 Tell us about your Nordic Festival with Loppet and the impact this is likely have on it and the facilities there?
KS: The Lake Placid Loppet continues to be a 25/50k race that happens in both skate and classic techniques on a slightly modified version of the 1980 Olympic course. The Nordic Festival has added activities, clinics and celebrations for our regional Nordic experience. This includes a "community challenge" race that happens in the afternoon after the Lake Placid Loppet. This event offers a 3, 6 and 12k rolling course and it has been a wonderful success. This year we are offering a series of five "community challenge" races leading up to Loppet weekend and the final event. We will also make these a community series of races that will offer all participants one point for their home ski club for each entry. The community that has the most participants in the series will win the "community challenge cup." These weeks will also have a youth and junior element at Mt. Van Hoevenberg as all regional clubs will be encouraged to join together the morning of the series days. Our community will join together on these days to celebrate our Nordic lifestyle and the opportunities that it brings. The Snowfactory will help us continue building our base of skiers and keep existing skiers in the sport.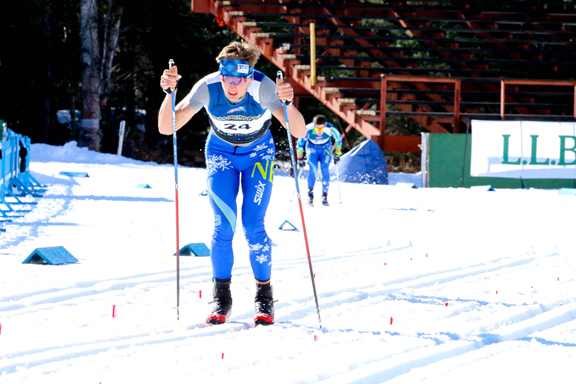 What about other events and national training and clinics you host that will be positively impacted?
KS: Given the unpredictable nature of winter, everything will depend on the Snowfactory to stand guard for our skiers. Mt. Van Hoevenberg has about 30 race day starts a year and this is everything from Paintball Biathlon races to national level events. Mt. Van Hoevenberg has a full plate of clinics, programs and lessons that run seven days a week. Our ski education staff depends on the employment and our guests depend on an acceptable skiable surface when they visit our Olympic venue.  Last season, in 139 days we hosted 35,000 skier visits.  In order to support the culture of Nordic skiing in our region and continue the growth of our sport, the SnowFactory is our insurance policy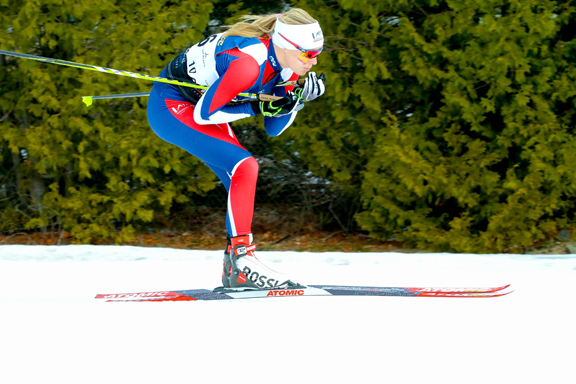 Olympians such as Lowell Bailey, Tim Burke and Bill Demong call Lake Placid home — are they a big draw for the sport as well?
KS: Lowell Bailey, Bill Demong, Tim Burke, Annelies Cook and Haley Johnson have been an incredible gift to this region by their accomplishments, generosity of time and quality of character. They are all from this region, their families live and work in our community and their collective legacy is only growing. Parents want their children to grow up in the positive influence and lifestyle of these individuals. Young skiers want to emulate these athletes. All five of these Olympians have gracefully highlighted their childhoods, upbringing and development in the Adirondacks as being important to their success. They have influenced the lives of thousands of regional families and made our community a better place to live.