May 14, 2011 – Vacation is over for the Swedish Cross-Country squad. The team travelled to Spain to gather at the first joint training camp in the off-season. However, Charlotte Kalla, Marcus Hellner and Co. are not enjoying spring on the south coast of Spain. Monte Gordo is indeed a tourist paradise, but the place is also ideal training base for skiers during the summer months.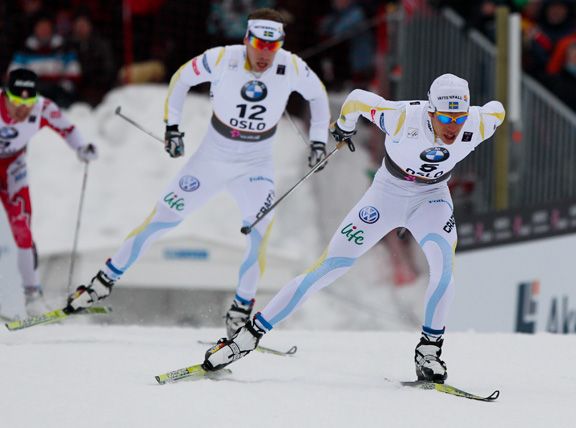 Sweden's Cross-Country team plans to kick off work to get back into an appropriate pace after a month when most of the athletes took a vacation. "We have here nice and hilly roads suitable for roller skiing and biking and the countryside offers us great trails for running. Our sprint team was here last fall and was very pleased," commented Swedish head coach Joakim Abrahamsson.
Between training sessions, the head coach is working on putting together all the pieces of the Cross-Country team to gain success both in short and long term. "We have no World Championships next winter and Tour de Ski is going to be our biggest goal. The following years will be filled with hard battles at the 2013 World Championships in Val di Fiemme, in 2014 at the Olympics in Sochi, and finally in 2015 at the home World Championships in Falun. It is important that we prepare goof strategy how we should develop both as individuals and as groups," explained Abrahamsson and Rikard Grip.
Both Swedish coaches are convinced that the training camp in Monte Gordo will do the team good. "It's something new and we believe it will inspire the team and rejuvenate the skiers with new energy," the coaches said.
Cross-Country team at Monte Gordo, Portugal 12-18/5
Men
– Anders Södergren, Östersunds SK
– Johan Olsson, Åsarna IK
– Jens Eriksson, Dala Floda IF
– Emil Jönsson, Årsunda IF
– Teodor Peterson, Åsarna IK
– Robin Bryntesson, Sollefteå SK
– Marcus Hellner, Gellivare Skidallians
– Daniel Richardsson, Hudiksvalls IF
Women
– Ida Ingemarsdotter, Åsarna IK
– Maria Rydqvist, Östersunds SK
– Hanna Falk, Ulricehamns IF
– Hanna Brodin, Åsarna IK
– Sara Lindborg, Östersunds SK
– Magdalena Pajala, Piteå Elit
– Charlotte Kalla, IFK Tärendö
– Anna Haag, IFK Mora SK