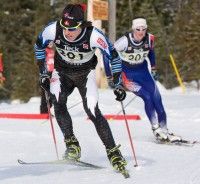 November 09, 2011 (Cambridge, ON) – Andy Shields, named Best Overall Junior Male in North America in 2010/11 by SkiTrax readers, won the the Tim Turow Award which is the Cambridge Athlete of the Year Award, this past Friday at the Cambridge Sports Awards banquet at the Cambridge Holiday Inn.
At the Junior Worlds trials, the 20-year-old won the the 15km skate, placed third in classic sprint, and won the 20km pursuit to qualify for the World Championships where he finished 31st in the classic sprint and in the 20km pursuit.
Read the full story in the Cambridge Times HERE.