February 16, 2012 (Steamboat Springs, CO) – Sven Wiik, a pioneer of "Ski Town USA's" booming Nordic skiing scene, recently celebrated his 91st birthday and will mark the occasion with an open house at the Steamboat Ski Touring Center on Feb. 26.
Wiik immigrated to the US from Sweden in 1949 and went on to become the USST's Olympic Nordic Coach. He and his family later built a Scandinavian Lodge, then called the Mount Werner Training Center, now named the Steamboat Ski Touring Center. The center is home to the Steamboat Springs Winter Sports Club (SSWSC), which has developed many Olympic skiers over its long history, including Vancouver 2010 Nordic Combined medalists Todd Lodwick and Johnny Spillane, who trained with the club in their youth. Steamboat has sent more skiers to the US Ski Team than any place else in the country and seventy-nine Olympians have accounted for 135 Olympic appearances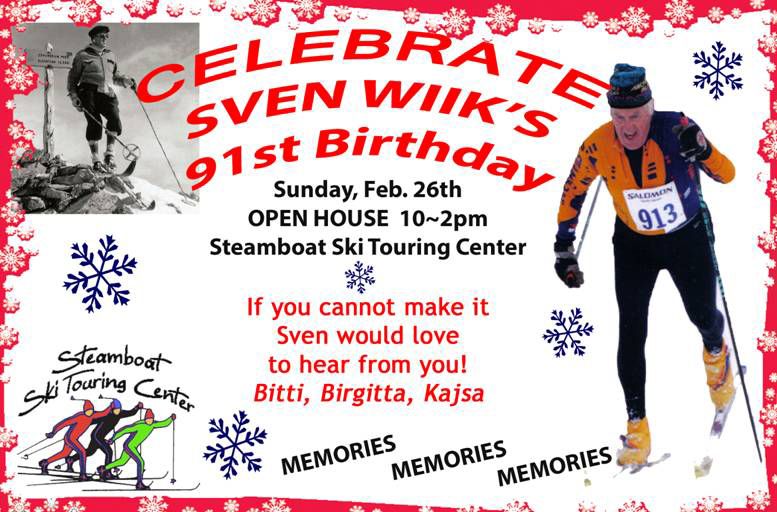 In 2003, Spillane won Nordic-combined 7.5km gold in Val di Fiemme, Italy, becoming the first American athlete to win a gold medal at the FIS Nordic World Ski Championships. In 2009 at the Nordic Worlds in Liberec, CZE, Lodwick won two NC golds. Then at the Vancouver 2010 Winter Games, Spillane won the U.S.A.'s first Olympic NC medal, winning silver in the individual 10K/Normal Hill missing out on the gold medal by 4/100ths of a second, the closest margin in Olympic history in that event. Lodwick, Spillane, Billy Demong and Brett Camerota won their first Olympic team medal, a silver. Spillane took home his third Olympic silver medal in the 10K/Large Hill event, while Demong won the gold in the same event.
Over one thousand athletes are currently members of the SSWC, training in five alpine and nordic disciplines. So when Colorado Springs and the US winter sports community celebrates Wiik's this month, they also celebrate a legacy of athletic excellence he helped create.
Steamboat Springs Winter Sports Club (SSWSC) is featured in SkiTrax's Feb/Mar 2012 issue now on sale – for more info on the Steamboat click HERE.