March 30, 2011 (Canmore, AB) – Last Friday, Fast and Female hosted its maiden biathlon day and its first ever event in Charlo, New Brunswick at the Club Les Aventuriers. Held in conjunction with the 2011 Kia Biathlon Canadian Championships, the Fast and Female Biathlon Day presented by Best Buy hosted more than 40 female athletes between the ages of 9 to 19 from across Canada for a sunny morning of inspiration on and off snow.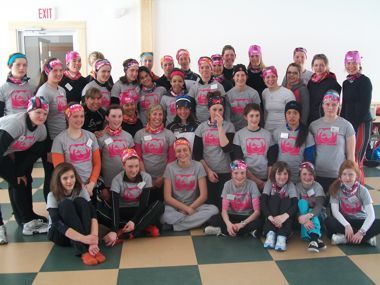 The young participants – some of whom were already on site to compete in the National Championship – had the opportunity to get first hand tips from National Biathlon stars Zina Kocher, Megan Imrie, Melanie Schultz, and Claude Godbout. They were joined by a handful of eager local girls involved in cross-country skiing programs and beginner biathlon racing from across the Maritimes.
The morning event featured an introductory presentation on the sport of biathlon, followed by on-snow ski drills, target shooting, Zumba dancing and an inspirational presentation by Zina Kocher who took part in the 2006 and 2010 Winter Olympics. In keeping with Fast and Female's vision, the intent of the event was to inspire girls to stick the unique sport of Biathlon which combines cross-country skiing and target shooting.
"We had a GREAT day," said Megan Imrie, a Fast and Female ambassador from Falcon Lake, Manitoba and a 2010 Olympian. "It was fabulous! We had plenty of wonderful feedback from both girls and parents. We even had some cross-country girls who now want to join biathlon. Needless to say that all ambassadors were very happy to hear that!"
According to Biathlon Canada officials, girls represent 45% of all biathletes in Canada.
"Girls competing at the local and provincial levels don't often get the chance to ski besides Zina, Megan, Melanie and Claude because those girls are racing in Europe all winter," explained Marie-Hélène Thibeault, Executive Director for Fast and Female. "Through the Fast and Female programming, we are able to bring everyone together in a non-competitive, fun and inspiring environment to allow for the optimal personal and athletic growth of the participants. We are very fortunate to be able to count on the volunteer time of such high quality ambassadors who have so much to give back."
This activity was made possible thanks to valuable local partners such as Marion Heppel, the organizing committee for the Kia Biathlon Canadian Championships, Le Club Les Aventuriers, and Biathlon New Brunswick. The event also enjoyed the support of many caring volunteers. Fast and Female's national sponsors – including Best Buy, Buff Multifunctional Headwear, Cold-FX, Clarins and Biathlon Canada – also providing key resources for the event. For a complete list of Fast and Female national program supporters and sponsors, please click HERE.
Watch a photo montage from the event:

To learn more about Fast and Female's upcoming events, please visit www.fastandfemale.com.
Follow Fast and Female on Facebook HERE.