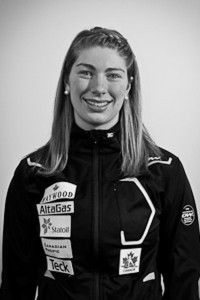 February 22, 2012 (Erzurum, Turkey) – Canada's Dahria Beatty and Janelle Greer, both of Whitehorse, cracked the top 30 in Wednesday's women's 5km classic race at the Junior World Championships in Erzurum, Turkey. Beatty finished the race in 25th and just over a minute back of the winner, Russia's Natalia Zhukova. Greer was close behind Beatty in 28th. Also racing for Canada were Anne-Marie Comeau (39th) and Emilie Stewart-Jones (42).
The USA contingent consisted of three skiers in this morning's race including Corey Stock (40th), Mary O'Connell (54th), and Stephanie Kirk (61st). Emily Hannah did not start.
In the men's race, which was won by Russia's Sergey Ustiugov, Canada's Alexis Turgeon posted the top North American result finishing in 33rd place, followed closely by the USA's Logan Hanneman in 35th. Also suiting up for the USA were Will Wicherski (61st), Michael Vigers (68th), and Cole Morgan (78th).
Canada's Geoffrey Richards (41st) and Knute Johnsgaard (73rd) also raced today.