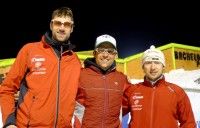 February 22, 2011 (Bend, OR) – The 2011 SprinterFest was held in conjunction with the US Cellular Rail Jam at Winterfest from Friday through Sunday in the Old Mill District in Bend, OR. Presented by Therapeutic Associates Physical Therapy and The Center, the races featured individual head-to-head sprints on a 130m track in front of thousands of people for the women's race on Friday and the men's race on Saturday.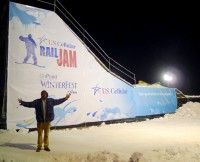 According to race director Bill Warburton, "Nordic skiing is usually a sport where skiers are way out in the forest, playing in the woods, but this weekend we got to show off the amazing skills of these athletes in front of a great crowd right downtown." Skiers from Portland and Bend raced for cash prizes through several rounds of competition. Local athletes from the Bend Endurance Academy and XC Oregon dominated the podium both nights. High school skiers and the general public competed during the days, with Bend High winning the High School Relay competition for both Boys and Girls.
"Bend is a hot-spot for cross-country skiing in the US," Warburton said. "The spectators got to see some world-class ski racing this weekend and Nordic skiing is growing quickly here so I hope this event helps bring more people to the sport."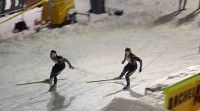 Women's Full Results HERE.
Men's Full Results HERE.
Women's Individual Results
1. Berkley Baldwin, XC Oregon
2. Bria Shurke, XC Oregon
3. Brenna Warburton, Bend Endurance Academy
4. Mary Wellington, XC Oregon
5. Allie Phillips, Bend Endurance Academy
Men's Individual Results
1. Dakota Blackhorse von Jess, Bend Endurance Academy
2. Erik Jacobsen, XC Oregon
3. Colin Mahood, XC Oregon
4. Joe Madden, Bend Endurance Academy