January 10, 2012 (Oberstdorf, Germany) – Heavy snowfall and wind during the jumping event and strong snowfall during the cross-country race made for challenging conditions in Oberstdorf at the FIS Nordic Combined World Cup, but the four-man US team comprised of Taylor Fletcher, Johnny Spillane, Bryan Fletcher (all Steamboat Springs, CO) and Billy Demong (Vermontville, NY) moved up three spots after jumping to eighth to finish fifth overall in the team event in Oberstdorf.
Bryan Fletcher laid down another strong cross country performance skiing the second fastest leg in his round. Team Norway ultimately took the win after making up one spot after the jumps.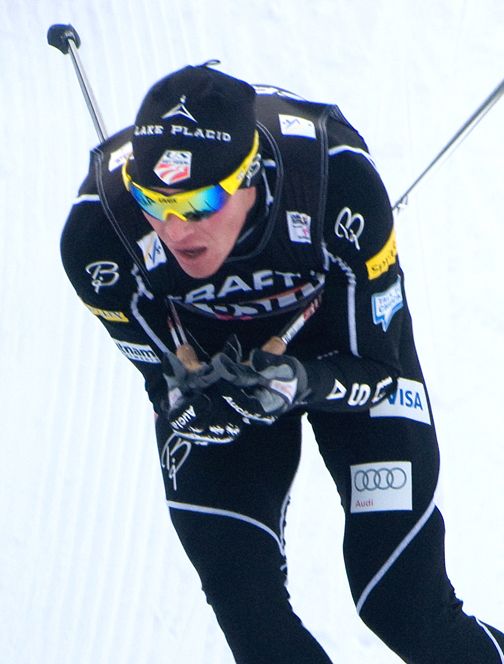 "Today was an OK day. It was hard on the jump with the changing wind – same old story. There was a massive snow storm during the race which made ski selection difficult. The service guys did a great job anyway. We're looking forward to tomorrow," said Dave Jarrett, USSA Nordic Combined Head Coach.
In the individual Gundersen on Day 2, the U.S. Ski Team's Demong and Spillane punched into the top-15 with 14th and 15th respectively, while teammate Fletcher was 16th. Norway's Mikko Kokslien took the win.
Spillane had the best jump for the U.S. with 20th and started the race one minute 23 seconds back, just in front of Demong and Fletcher. Fletcher skied the eighth fastest cross-country time, which was the fastest out of the Americans.
"It was a good day today. All three were close to getting the lead pack but just couldn't close the gap all the way. Jumping was better for Billy and Johnny. Bryan had an awesome trial jump and wanted just a little more in the comp and got a little less. He is solid, though. Good skiing from everyone. Looking forward to Chaux Neuve," said Jarrett.
Fellow US teammates Nick Hendrickson (Park City, UT) and Taylor Fletcher (Steamboat Springs, CO) did not start after finishing out of the top 50 in the provisional competition round jump.
The weekend competitions were originally scheduled in Schonach, but forced to move earlier this week due to adverse conditions. The World Cup now moves to Chaux-Neuve, France Jan. 14-15 for a pair of large hill individual Gundersen events.