January 19, 2012 (Lienz, Austria) – The Dolomitenlauf Games will kick off this coming Friday with the Dolomites Sprint, held in Lienz/East Tyrol since 1987. Austrian sprint specialist Harald Wurm could write history this year in this head-to-head battle, and overtake Markus Gandler. After all, both have three victories under their belts already.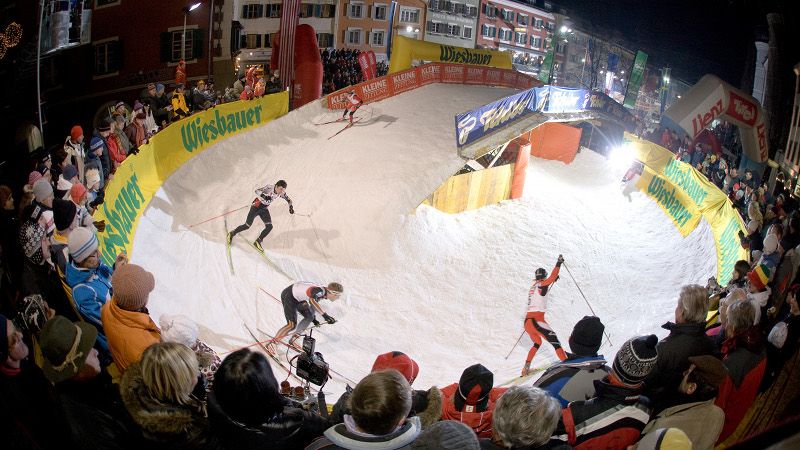 The Dolomites Sprint will be marking the start of the Dolomitenlauf Games this Friday 20 January 2012. This cross-country sprint comprises 6 heats and finals of 5 athletes each. The Dolomitenlauf Games will then begin with the 42 km long classic style Dolomites Classic Race on Saturday and the 38th Dolomitenlauf run (42 km free-style) in Obertilliach on Sunday.
"The sprint is particularly exciting and action-packed for the athletes and visitors alike due to its technical challenges and sophistication," says OK Manager Franz Theurl, who organised the first cross-country sprint in the world in Lienz with his team in 1987. 30 sprinters from 10 nations will be entering the sprint arena in Lienz's main square at 19:00 where a 5 m high ramp, downward starting curve, hairpin bend and ski jump present a particular challenge. "It's a man-to-man battle! And we battle it out for every metre," explains the 28-year old Tyrolean Harald 'Wurmi' WURM who, following 3 Dolomite spring victories (2010, 2009, 2008), represents Austria's best chance to beat his ÖSV sprint colleague, Bernhard Tritscher. But for Wurm, this is about much more than winning the Dolomites Sprint for the 4th time. He also wants to overtake the Olympic silver medal winner and World Champion Markus Gandler, who already has 3 victories under his belt.
Strong Austria Representation
In addition to the 2 candidates for victory, Tritscher and Wurm, the ÖSV (Austrian Ski Association) is also sending Martin Stockinger, Thomas Ebner, Markus Bader and the rookie Aurelius Herburger to the Dolomites Sprint – 6 athletes with good prospects while more than 5,000 visitors look on! Austria will undoubtedly put up some strong competition and is also presenting a newly founded amateur national team (a new trend in cross-country skiing): the Skinfit Team Austria with Thomas Stöggl, Lukas Weitgasser, Philipp Bachl, Markus Keplinger, Michael Eberharter and strong German skier, Thomas Freimuth. The Tyrolean sprint champion Clemens Frischhut will also be taking to the starting line.
Strong International Competition
Strong sprint specialists from abroad will no doubt put up a good fight against the Austrians too: Czech sprinter Stanislav Rezac (leader in the FIS Marathon Cup) will be taking on the challenge, as will Swedish Vasaloppet winner Daniel Tynell and last year's winner of the Dolomitenlauf, the Italian Fabio Santus. Frederik Byström is the second Vasaloppet winner in the start line-up. The Italian Christian Zorzi showed that he feels completely at home with sprinting too at the 2002 Olympic Games in Salt Lake City, where he won a bronze medal for the sprint discipline. This was followed by a gold medal in the team competition in Turin. "We have a very strong starting line-up in the sprint this year and for the first time, there will also be a national team from Switzerland and Estonia," says Franz Theurl of the show.
The Dolomitenlauf Games will be declared open this coming Friday at 18:30 with the Dolomitenfeuer band. And there will be plenty of music and catering to enjoy in Lienz. In addition to the Lienz brass band, organisers have also booked Werner Otti, the man with two voices, who is famous from the ORF talent show 'Die Grosse Chance'.
Favourable Weather Forecast
The arrival of winter means that the routes for the Classic Race and Dolomitenlauf race are ideally prepared, including the start and end points in Obertilliach. "And fantastic weather is forecast for the weekend," says Franz Theurl. Those interested in cross-country can still register on the homepage www.dolomitensport.at until Wednesday as well as just before each race.