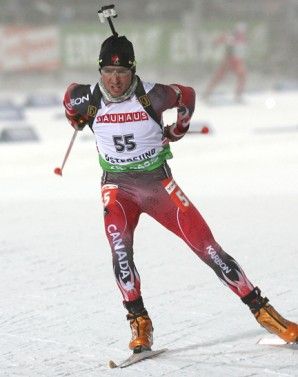 January 10, 2011 (Oberhof, Germany) – Canada's Jean-Philippe Le Guellec followed up his 16th place effort in Friday's sprint by placing 20th in the men's 15km Mass Start on Sunday, the final event of IBU WCup round #4 in Oberhof, Germany, won by Norway's Tarjei Boe.
Le Guellec, a two-time Olympian, had a day to remember in the shooting range, coming away with just one miss in four trips through the stadium. "That was one heck of a hard race. The conditions were super soft and the snow was wet in places," said Le Guellec in a Biathlon Canada release, "I had nothing left in my legs, but it was a great day for shooting. I established a tactic in training yesterday that worked well today."
Canadian teammate Brendan Green also followed up a strong sprint race with a 25th place effort on Sunday, finishing with a time of 42:11.1 after missing a pair of targets. No Americans qualified for the men's mass start as only the top 30 skiers advanced from the previous races.
Norway placed two skiers on the podium with Boe scoring his fourth race of the season, and Emile Hegle Svedsen capturing second with 3 misses and a time of 35:55.4. Ivan Tcherezov of Russia rounded out the top three with a pair of misses on his way to finishing with a time of 39:55.4.
Boe, who also won this week's sprint competition, helped to strengthen his grip on the yellow leader's bib, awarded to the best biathlete in the world. The 23 year-old Norwegian showed poise on the final lap, after missing a shot in the last shooting stage of the day.
"Usually, you do not win a mass start with a penalty in the final stage. But I had a strategy going into that stage," said Boe, according to the IBU report, "I knew I had to shoot fast, so that if I missed one I could get around the loop before the others. I missed the first shot and just went on. The last one took some mental strength, because I knew the victory depended on hitting it."
Full results HERE.
Results (Brief)
1. Tarjei Boe, NOR (0+1+0+1) 39:51.3
2. Emile Hegle Svedsen, NOR (1+0+2+0) 39:53.7
3. Ivan Tcherezov, RUS (0+0+1+1) 39:55.4
4. Martin Fourcade, FRA (0+1+0+1) 40:05.6
5. Michael Greis, GER (1+0+1+1) 40:10.4
20. Jean-Philippe Le Guellec, CAN (0+0+0+1) 41:41.7
25. Brenden Green, CAN (0+1+1+0) 42:11.1