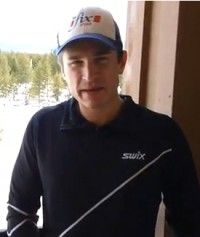 February 06, 2012 (Minneapolis, MN) – The City of Lakes Loppet on Sunday drew nearly 600 racers, despite an organizer's nightmare that forced relocation of the event just one week before the date. Because recent snowfall weakened the ice resulting in puddles on the original Chain of Lakes route, the event was moved to a man-made snow loop in Theodore Wirth Park in north Minneapolis.
After snatching the men's victory at the Boulder Mountain Tour in Idaho on Saturday, Matthew Liebsch (Team Strongheart/Team Birkie) continued his winning streak the following day in the freestyle discipline at the City of Lakes Loppet in Minneapolis, finishing the 17km race in a time of 37:06, with second place, Brian Gregg (CXC) right on his tail in second, only one second behind. Eric Wolcott placed third with a finishing time of 38:33.
Caitlin Gregg (CXC) took home the women's title in a time of 40:32 with more than two minutes to spare over her teammate in second place, Jennie Bender. Natalia Yakimova picked up the final podium spot for third place.
Full results for all events HERE.