March 12, 2016  (Oslo, Norway) – Team Canada's Christian and Scott Gow, Nathan Smith and anchor Brendan Green, delivered historic BRONZE in Men's Relay 4×7.5km, today in Oslo at the 2016 IBU Worlds with an amazing run that is dream come true for the squad.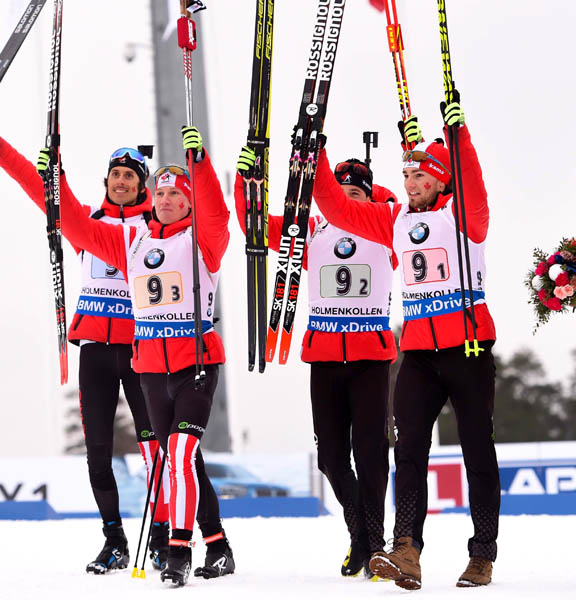 Norway captured the gold over Germany as the Canadian men's biathlon squad did what was once the unthinkable on Saturday – the talented Canadian foursome delivered Canada's first ever World Championship relay medal bronze in the heartland of the sport in Oslo, Norway. The US Team with Lowell Bailey, Leif Nordgren, Tim Burke and Sean Doherty had a strong day as well claiming 8th overall.
"This is a race we would dream about, and the dream came true today," said Christian Gow. "The whole thing is just incredible."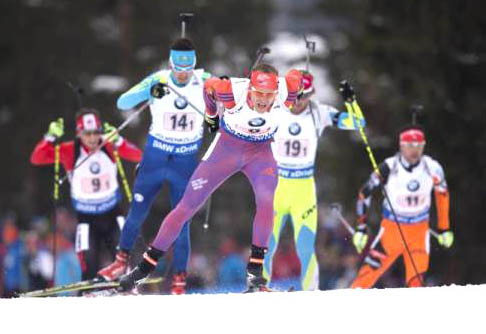 American Bailey had a super start using one spare handing off to Nordgren in second as Germany took the lead. The younger Christian Gow, who is just shy of his 23rd birthday, set the tone for the Canucks, skiing a personal best opening leg shooting clean handing off to Smith, the leader of the men's team, in seventh spot just 14 seconds behind the leaders in front of thousands of screaming Norwegian fans – many who camped out along the trails overnight.
"That was the best performance in my life," added Gow. "All I wanted to do was to put the team in a good position. I took some risks and really went for it.  I almost zoned out in my shooting and just let it happen."
"Happy to be in the mix for the relay today," said Bailey. "It was an exciting race with a ton of teams shooting well. Congrats to Canada for an incredible finish."
Smith put down the fastest ski time in the second leg using two spares to catapult the Canadians into medal contention, and they never looked back. Nordgren also used two spares as the US found itself in 11th as Burke took over. Meanwhile Norway was on fire taking over the lead from Germany as top contenders, France, faltered on the range.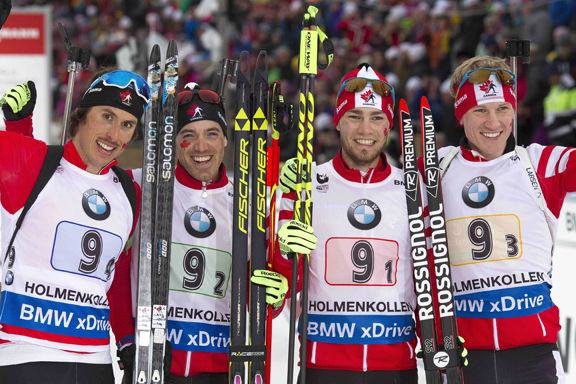 "We knew we could pull off a good result, but we never thought we'd win a medal," said Smith, who became the first Canadian male to step onto the World Championship biathlon podium when he won a silver medal in the sprint race one year ago.
"It is not easy to compare last year with this medal. With the entire team involved, I think this is a bigger accomplishment for our small sport. And to do it in front of these large crowds in the heartland of biathlon, is an amazing feeling."
Taking the hand off from Smith, Scott Gow was well aware he was skiing in uncharted territory with the world-leaders from Norway and Germany. But the 25 year old never shied away, matching strides and shots with the legends of the sports to hold the Canadian spot in third. American Burke skied a strong leg for the US as they moved up to 7th.
"It is incredible to get on the podium. My skiing and shooting was solid and I just wanted to stay as close to the top guys as I could," said Scott Gow, who had a career-best 18th-place finish two days ago in the individual race. "I have never raced alongside the top guys. I got a nice draft from the Norwegian and made it work. This is such a big confidence boost for me to know what is possible."
Gow handed off to the sharp-shooting rock of the Canadian relay team, Green as Burke tagged off to Doherty. Norway's Johannes Thinges Boe put hammer down and gapped the field by 29.4s as he handed off to Emil Helge Svendsen.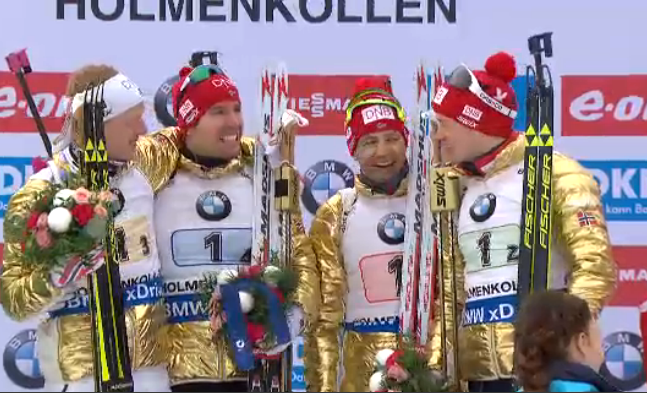 Svendsen cleaned in prone and used two spares in standing to claim a brilliant gold for Norway on home snow. He admitted that the women's relay was an inspiration. "We were a bit jealous of them wearing those Gold jackets…I an emotional guy and watching them on TV was an amazing experience…I was really nervous before I started, waiting there all alone, but after that I was fine." Germany took second at 11.5s back.
Green, the two-time Olympic veteran who has consistently put up clean results on the range, shook off any jitters and delivered a medal-worthy performance – skiing fast and shooting clean for the bronze. Doherty used one spare round as well to bring the USA home in 8th.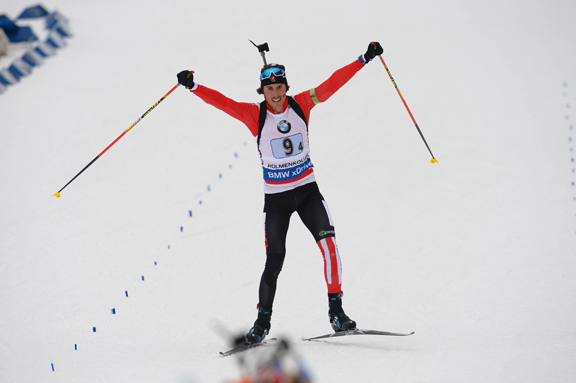 "Today was a solid team performance but we were definitely hoping for more," said Burke. "This was the best shooting performance that I can remember from the team. With that shooting result I would have expected us to be fighting for a podium. This was one of my best relay performances and I hope that will give me some momentum heading into tomorrow's mass start."
Green was almost speechless at the finish after his gutsy leg. "I'm at a loss for words," said the 29-year-old anchorman. "I watched the whole race and saw we were in contention. I was super nervous prior to the start I almost lost my lunch. Once Scott tagged me I was able to relax a bit and focus on having a good race. The rest of the guys were strong in shooting and I knew I had to be clean.
"What an incredible day. It is the culmination of a lot of work. We are a small, tight community and I think this result allows us to realize our potential and what is possible."
Results here.