December 17, 2016 (La Clusaz, FRA) – The USA's Rosie Brennan was the top North American in 22nd while Canada's Dahria Beatty continued her good form chalking up the best distance result of her career, finishing 26th in the women's 10k freestyle mass start World Cup in La Clusaz.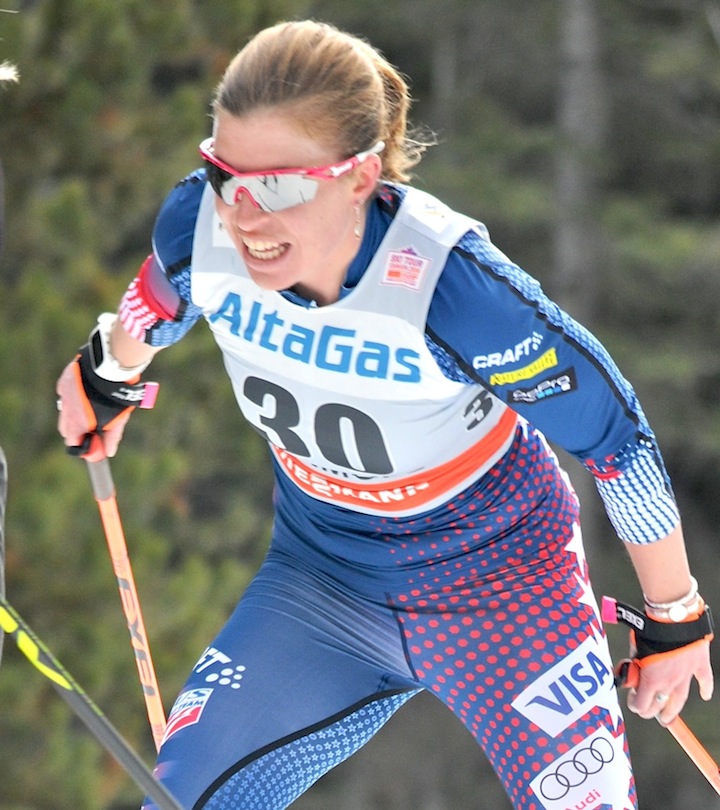 Heidi Weng led a Norwegian podium sweep with Marit Bjoergen taking the silver and Ingvild Flugstad Oestberg landing on the final podium spot.
Fellow American Liz Stephen finished just behind Brennan in 23rd with Beatty 26th, Kikkan Randall 36th, Caitlin Patterson 37th. Canadian Cendrine Browne was 41st while her teammate Emily Nishikawa finished 48th.
The race was run on a narrow swath of snow, but the track was excellent reported skiers. The illness-ravaged U.S. Ski Team meant the both Jessie Diggins and Sadie Bjornsen were unable to start.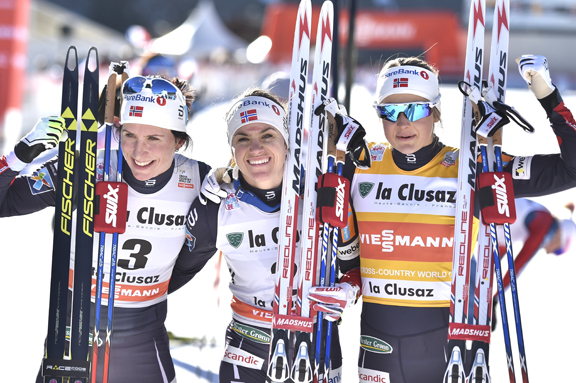 "It is truly amazing what the organizers were able to do without any snow! We had a solid 2k loop that held up remarkably well. It didn't break down much or get too icy. The course has 3 short steep hills and 3 downhills with some somewhat fast and technical corners. Knowing this I was hoping to be aggressive from the start and get into a good position knowing that it would be hard to pass and that the downhills were going to take some people down," commented Brennan.
"Unfortunately, I got in a tangle about 100m into the race, spun around and fell over, leaving me headed up the first hill in last place. I was able to quickly regroup and found Liz who also had a tough start. We are both better on the climbs so we just moved together through the field as best as we could, picking people off one by one on every uphill and holding it together on every downhill. I have had a tough start to the season and I was so happy to feel more like myself today and be able to be in the race. Our team has been destroyed by illness the last few weeks. It was so sad to not have the full squad out there, but I was happy to have come back from the illness myself after sitting out last weekend and I'm sure everyone will be back in force after the holidays," wrote Brennan by email.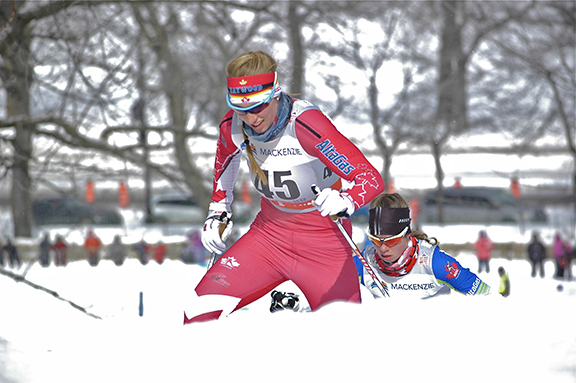 Beatty was over the moon with her result earning her first World Cup distance points at her first European mass start race. She finished 25th in a skate-sprint race in Davos, Switzerland last weekend.
"This was my first European WC mass start. I have raced a couple in Canadian WC's. It unfolded as I had hoped. Honestly it was better than I expected. I was able to ski on the outside up to about 35th place on the first lap after being caught behind a little crash at the start. I was feeling good today and on my second and third lap was able to slowly move up through the field a bit. The last two laps were really hard but I new that I'll I had to do was hold my position to score my first ever distance WC points.
"I am thrilled with the result. The course was hard and fun and stayed in good condition. There was lots of cheering with the short course which really helped at the end. Before today my best distance result was 40th so I am super super happy to have finished 26th," she concluded.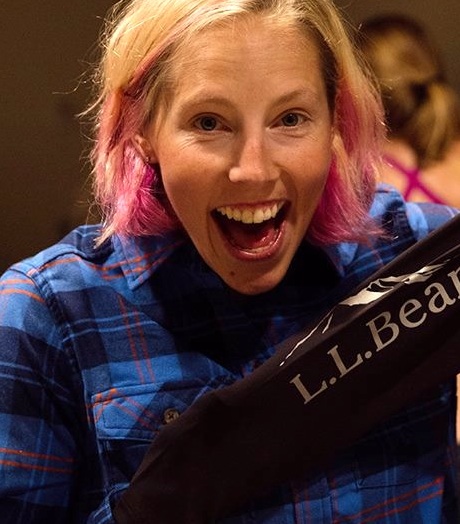 Meanwhile according to Randall when the world cup was in La Clusaz in the late 80's, "We had no USA skiers racing. So we're pretty pumped to have a strong team over here now that can contend every weekend."
"The course was a challenging but exciting 2km lap.  The snow was actually stayed in good condition throughout most of the race.  There were some high speed turns that held up surprisingly well," she continued.
"My goal today was to go out hard and try to move up into the front of the pack on the first lap.  Even though I started near the back I was able to move up pretty well in the first lap and held a good position in the top 20 for the first two laps.  Started to fade going into lap three and wasn't able to keep the speed up to maintain my position.  Laps 3 and 4 were tough and then I worked hard the final lap to empty the tank.
I've had some indications in the first period that my fitness is better than my results are showing and that is a matter of sharpening my race form. Every race is helping me get a little bit closer. I am moderately satisfied with my race today.  I had a good first half but there were a few windows to try and get a little more out of myself in the 2nd half that I didn't quite get today.  Going to learn from this and keep pushing forward," commented Randall.
With the illnesses in the US team the starting lineup for the 4x5k relay remains in jeopardy. Coaches will make the determination on Sunday morning. The US women have been on the podium in the last three team events.
Results here.