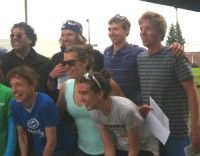 June 16, 2011 (Canmore, AB) – The team laced up their running shoes this past Sunday for the Bowness Centennial Road Race in Calgary, celebrating their 100 year mark in the community. Sunny weather made for a great day to run the 10km course, mapped throughout historic Bowness.
Devon Kershaw joined the team in the run, helping sweep the mens podium. Kershaw posted the days fastest time of 32:45, after surging away at the 2km mark from second place finisher Kevin Sandau, crossing the line at 34:00. Graeme Killick rounded out the top 3 after out sprinting teammate Drew Goldsack by a second.
Heidi Widmer, now competing as a first year under-23, finished third in a time of 43:22. Annika Hicks finished just 13 seconds behind her, taking the 4th place spot.
As a bonus to the top 3 finishers, Mayor Naheed Nenshi presented the awards to the recipients.
Times from the weekend can be found HERE.
The Academy is now preparing for their camp to Kaslo, BC on June 20th, with road biking, roller skiing and ski striding planned for the 3 night camp.