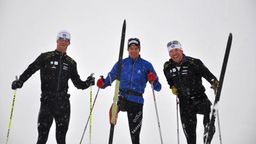 September 20, 2011 (Davos, Switzerland) – Already last winter discussed Swedish and Swiss national teams they could do something together. "We talked with Guri Hetland, sports manager of the Swiss Cross-Country team, and all the pieces fell into right place. I think both teams will have the pleasure of training with each other in Davos and its fantastic environment," says Swedish coach Joakim Abrahamsson.
The Swiss team is well known and is led by reigning World Cup champion Dario Cologna. He, Remo Fischer, Curdin Perl and Toni Livers romped to first ever Swiss World Cup victory in the relay in La Clusaz last winter.
Swedish team left Livigno, Italy on Sunday after a wonderful week with various dry-land workouts in perfect weather. "The sun was shining all the time, we had optimal conditions there and we could carry out the whole training plan we had prepared," Joakim Abrahamsson says.
Davos has been Swedish favorite resort for a long time. The town lies in a valley with Flüelaschwarzhorn as the highest point, 3146 meters above the sea level. The town itself lies in 1260 meters above sea level.
"We are confident that in Davos we will perform great workouts. Anna Haag and Emil Jönsson have been here, and Guri Hetland lives in Davos and the surrounding area is great," Joakim Abrahamsson says. Anna Haag and Emil Joensson bought an apartment in Davos.
Unfortunately, neither Johan Olsson nor Marcus Hellner will team up with the Swedish squad in Davos. The two Olympic relay heroes have not fully recovered from their injuries.
"Johan needs more time to heal his shoulder bu he can do alternative training. The same applies for Marcus. At first he was slightly cold, and then he stretched his knee," Joakim Abrahamsson revealed.