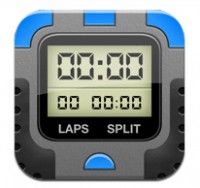 January 29, 2011 – NENSA played a critical role in the development of this new split and race timing app for iOS devices (designed for iPod Touch and iPhone… works on iPad). We started the process about one year ago partnering with Fasterskier.com and FlyingPointRoad.com. After finally finding a developer (who now actually owns the app with a share of revenue coming to the original partners) and working through the fairly complex logic involved in a good split and race timing system, the app is now released in the iTunes app store.
I tested the app at US Nationals, the Colby College Carnival, and it has now been used to run two time trials for the Central Maine Ski Club BKL group. All, I can say is that if you are a coach trying to do splits, a parent trying to figure out who's doing well in an interval start race, a youth leader or anyone trying to time or do split timing you will love this app. While it is not robust enough to be a FIS-homologated timer, it will work for just about anything else!
We've tested battery life in the bitter cold, covered with a plastic bag during a driving snowstorm, and run it through all kinds of different scenarios including the 6-lap US Nationals races (it automatically handles laps!). We are in love with the app and know that you will love it too…
So, buy the app now and be ready for me to post specially formatted start lists for this weekend's Eastern Cup so you can give it a try. We'll also be sure that start lists are available for EISA collegiate races and will produce formatted start lists at the request of any race director on the NENSA Calendar!
Learn more at www.racesplitter.com or HERE or buy directly the iTunes store for $24.99 HERE.