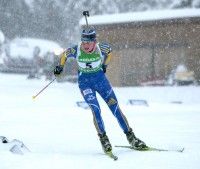 January 07, 2011 (Oberhof, Germany) – Sweden took advantage of key shooting, despite heavy rain and high winds, on the final two legs of the 4x6km Women's Relay held yesterday to execute a come-from-behind victory at Oberhof's World Cup venue. Sweden's team of Jenny Jonnson, Anna Carlin Zidek, Anna Maria Nilsson and Helena Ekholm suffered only one penalty, while utilizing eight spare rounds, to finish 52.3 seconds ahead of second place France, who compiled three penalites and nine spare rounds respectively. Belarus rounded out the top three with a time of 1:19:24.5.
Sweden's team got off to a slow start, despite a solid shooting performance from Jonnson, and found themselves in fourth place after the first leg. Trailing the likes of Slovakia, Ukraine, and Finland, the second leg was no change in fortune for the team, as they remained in fourth after Zideck passed off to Nilsson.
Sweden's third leg proved to be a spark for the team as they moved up to second placed behind Nilsson's three spare round performance, and Ekholm brought home the victory with a no-miss final lap.
Thursday's harsh weather conditions were undoubtedly a factor in determining the champions, as there were 84 penalties and 263 spare rounds used across all of the 21 teams who competed. The heavy rain and powerful winds made shooting no easy task for the world-class athletes.
Canada's relay squad consisting of Zina Kocher, Megan Imrie, Rosanna Crawford, and Melanie Schultz, North America's lone representative, was among an astounding nine teams who were disqualified as a result of being lapped in the challenging conditions.
The United States, although present in Oberhof, did not field a team on Thursday due to a lack of available racers.
Full results HERE.
Results (brief)
1. Sweden (1+8) 1:17:53.1
2. France (3+9) 1: 18:45.4
3. Belarus (1+13) 1:19:24.5
4. Ukraine (5+12) 1:20:46.3
5. Russia (8+16) 1:20:59.2
LPD Canada (4+14)