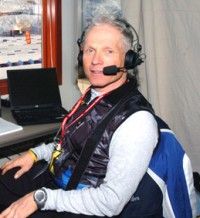 February 07, 2011 (Barrie, ON) – What would happen if you held a World Cup and nobody came? Well, you would call it Rybinsk, Russia and there would be free world cup points for just about everyone who was there.
This past weekend there were three – yes three World Cup races on the calendar, a distance pursuit, an individual sprint and a team relay. For the distance race there were only 33 men (11 Russian) and 30 women (11 Russian). It didn't get much better for the sprints with fields of 54 men (15 Russian) and 34 women (16 Russian). The relay for women had 7 teams (4 Russian) and 10 for men (again 4 Russian).
This is brutal. There has got to be something wrong with the schedule to have so few skiers in a World Cup in the first week of February. When there have been World Cups in Canada the last few years they have been better supported. The Ontario Masters Championship in Parry Sound had almost as many skiers! This has to be an embarrassment to the FIS Cross Country Committee.
Now, I've been to Rybinsk and it is not that bad there. I know that some countries were having National championships, but that should be no excuse. In fact, I don't think that this should be allowed to happen either. We have the same problem in North America, but we still send our best skiers to compete at the World Cup.
Meanwhile, it should be no surprise that the Russian skiers dominated the result list for these races – at least for the men. Alexei Pethukov won the sprint, Ilia Chernousov won the distance race and the Russian 1 team won the relay.
It shows how far the Russian women have fallen when they cannot win a race with at home against such small fields. They couldn't even win the relay with 4 teams out of 7 in the field – the Italian women beat them. Katja Visnar and Vesna Fabjan of Slovenia were 1st and 2nd in the sprints and Justina Kowalczyk of Poland won the distance race and was 3rd in the sprints. She has pretty well cemented the overall World Cup title for this season as the only person who could beat her, Marit Bjoergen was at home, once again, in Norway training for the World Championships in March.
In the 1990′s the Russian women were unbeatable. Of course, we now know why. A good, structured, well organized doping program will do that for you. Now they are ordinary and need to get their act together quickly in order to have a decent showing in Sochi in 2014.
There's a two-week break in the schedule before the World Cup resumes in Drammen, Norway on February 19-20 with a short distance race and individual sprints. Hopefully we should see full fields for this event and truly have a "World Cup" race.
I can't close this week without some commentary on the World Junior and World U23 racing from Otepaa, Estonia last week. In my opinion, a finish in the top 10 at either level is a great indication that a skier has the talent and potential to be a consistent point scorer (top 30) at the World Cup level.
A good way to look at it is to look at junior and professional hockey in North America. If a junior hockey player is drafted in the first round by a professional team then they have a good chance of becoming a National Hockey League player. Not all of them do, of course, and there are players who are not drafted in the first round who make it. I think that less than 5% of junior hockey players ever play in the NHL.
Most of these junior players who are drafted end up playing for a year or more in the AHL – kind of the equivalent of the U23 level in skiing. Not all players in the AHL make it to the NHL – again a small percentage and only the best move on. Some of the very best junior players go right to the NHL, but they are the exception.
When I look at the North American results from Otepaa I see the same thing. Alex Harvey is World Champion at U23 and finishes consistently in the top 20 on the World Cup. He was on the podium a number of times as a junior, as well. In hockey he would have been a top draft pick as a junior and would likely have been in the NHL in his first or second year as a pro.
The other skiers that finished in the top 10 – Kevin Sandau, Jesse Cockney, Len Valjas, Jessie Diggins and Noah Hoffman all have a shot at a career as a World Cup skier. Emily Nishikawa, Michael Somppi, Alysson Marshall and Sadie Bjornsen had top 20 finishes – kind of like being drafted in the 2nd round of a hockey draft. They have shown some talent, but there is still a lot of work to do.
Don't get me wrong, there are no guarantees that any of these skiers will make it on the World Cup (except Alex Harvey – he is already there). It also doesn't mean that the skiers who were there from North America but outside the top 10 or top 20 (or those who didn't make the trip) will not make it eventually, but it is going to take them much more time and work.
Malcolm Gladwell in his great book "Outliers" told us that the difference most of the time between those who "make it" and those who don't is not talent but work and opportunity. He points out that it seems to take 10,000 hours of work for someone to be the best in just about anything.
At an age of 22 or less, all of these skiers have not put in the time yet to know if they are going to make it. They also need to continue to have the opportunity to race and train with the best in the world. I hope that the USST and the Canadian NST continue to give these young skiers as many opportunities as possible to do this.