June 06, 2013 (Dubrovnik, Croatia) – FIS Newsflash caught up with FIS Cross-Country World Cup sprint champion Kikkan Randall (USA) on the eve of the 2013 FIS Calendar Conference. Randall is present in Cavtat-Dubrovnik (CRO) for her role as one of the two Athlete Representatives for Cross-Country Skiing within the FIS Athlete Commission. The FIS Council has to formally confirm all members on June 10.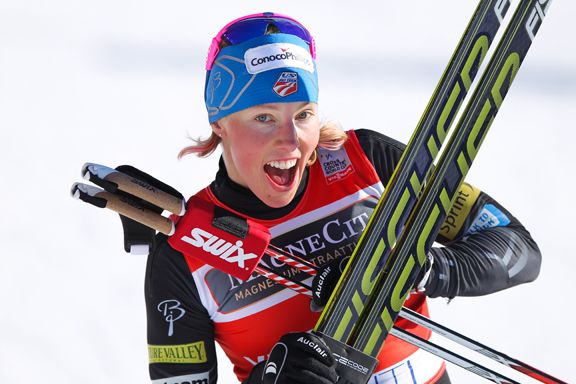 You were recently re-elected as the female athlete representative for Cross-Country Skiing. It was four years ago in 2009 when you first attended one of these meetings that just happened to be in Cavtat-Dubrovnik as well. Looking back over those four years, do you return to this location with positive feelings from your role as a Cross-Country Athlete rep?
Kikkan Randall: You know being back here in Dubrovnik really helps me reflect on the past four years. When I arrived the first time in Dubrovnik I really didn't know what I was doing, and now four years later I know the ropes much better and have built what I feel is a solid platform for me to be able to represent the needs of the athletes.
What is on the agenda for you this year?
KR: We had a very productive athlete's survey that focused on a few things on the calendar. For next season and the seasons beyond, we will be able to provide clear and direct feedback on things like what competitions and formats the athletes would like to see. Also I will continue to work to improve little things like athlete areas and execution of prize money payment. These are small details but this is a great time to bring attention to those items here at the meetings. It's also important that I also take back what I learn here and present it to the athletes.
During your first term as athlete rep you were partnered with Sami Jauhojärvi of Finland. What were your first moves to build influence within FIS on behalf of the athletes?
KR: Working with Sami we developed a network and a way of getting feedback from the athletes and presenting it in a manageable form for the FIS Cross-Country Committee. Over those four years the process has become more refined and we now have an established pathway to make the needs and the concerns of the athletes heard.
As a result of your work on behalf of the athletes, you now have a voting right at the table of the FIS Cross-Country Committee. That is a first time for such a right for athlete representatives within FIS.
KR: I think that is one of the biggest accomplishments that Sami and I have achieved over the past four years. It's huge for us. We really took the lead from the IOC Athlete Commission, where they have representation at the highest level on their Executive Board.
Aside from the FIS meetings, how is your training going in the new year?
KR: Our US competition season continued about 2 weeks longer than usual this year, so it feels like it has been a quick turnaround since my season ended, but I have been back to training again for three weeks now. I am being cautious so far to make sure none of the foot trouble I had last season resurfaces. It's been a good start and enthusiasm is high with it being an Olympic year. I am hoping to be able to get a few little training sessions here while in Croatia.
Thank you for your time. Good luck with the meetings and the upcoming training and competition year.
KR: Thanks.