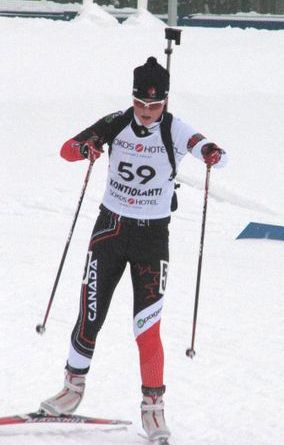 February 21, 2012 (Kontiolahti, Finland) – The IBU World Junior Championships got underway in Finland yesterday and Canada's Julia Ransom led all North Americans with an eighth-place finish in the Youth Women's 10km Individual competition. The 19-year-old Ransom, from Kelowna, B.C., missed only three shots in four rounds of shooting, and finished with a time of 41:38.1.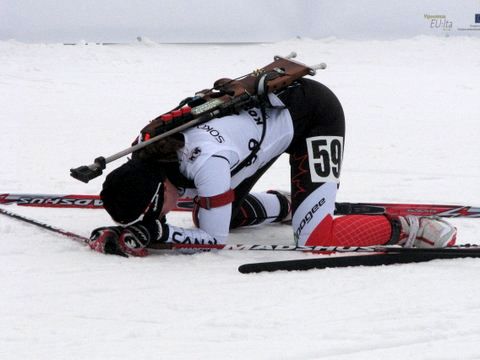 Germany's Julia Bartolmaes captured the first gold medal while Galina Vishnevskaya of Kazakhstan won the silver medal, with Norway's Hilde Fenne grabbing the bronze.
Three other Canadians and three American women also hit the start line. Anna Kubek (USA) was 30th while Sarah Beudry (CAN) was 33rd; Tara Geraghty-Moats (USA) placed 44th, while Rose-Marie Cote (CAN) finished in 47th place. Erin Oliver-Beebe (CAN) finished in 50th, with Melissa Manning (USA) and Mikaela Paluszek (USA) finishing up in 58th and 72nd place, respectively.
Youth Men 12.5 km Individual Pursuit
France's Aristide Begne missed just one shot on his way to gold ahead of Maksim Romanouski from Belarus, with the Ukraine's Artem Tyshchenko finishing in the bronze medal position.
Calgary's Christian Gow led the North American men in the 12.5-kilometre individual pursuit competition. The 18-year-old missed one shot in each of his four bouts on the range to finish in 11th overall.
Following Gow was Sean Doherty (USA) and Samuel Dougherty (USA), finishing in 26th and 28th position. Canadians Albert Bouchard, Stuart Harden, and Carsen Campbell finished mid-back (36th, 38th, and 41st place), while Nicholas Proell (USA) finished 55th and Jacob Prince (USA) ended up in 83rd place.
Women's 10k Individual results HERE.
Men's 12.5k Individual results HERE.