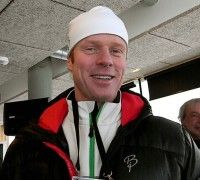 February 23, 2011 (Oslo, Norway) – The excitement is expected to build to a crescendo this evening, not far from the Royal Palace in downtown Oslo, as the 2011 FIS World Nordic Championships are set to kick off. Members of the Canadian and U.S. Cross -Country ski team made their final preparations on Tuesday on the perfect ski tracks at Oslo's famed Holmenkollen venue.
With the trees laden with snow and with light snow falling, it made for the ideal scene set for these much anticipated championships to begin.
Kikkan Randall took her final tune up on the tracks and said she was ready. "I feel great and very energized following the Drammen races and I am set to go. The sprint course is really one I like very much, it has all the right elements," said Randall who goes into the FIS Championships poised and confident following her second World Cup win this season in Drammen.
U.S. Head Coach Chris Grover also said his charges are ready, "We are all healthy and everyone is happy and ready".
While we tested announcing systems today for the qualifying events, the top ten of each race of men and women will be able to ski in these championships. Among them was Dartmouth's former star, Ben Koons, who is skiing for New Zealand here, along with brother Nils. Well-known Kenyan skier Philip Boit also took part, who is now coached by the legendary Norwegian champion Bjorn Daehlie, who came our booth today for a chat. There were big crowds on hand for these races today, as there was no charge to attend.
At mid-day SkiTrax attended a Fischer Press Event and the room was full of among the best-known Fischer athletes in the sport also among the favorites here in Oslo – here are some notes from the press Conference…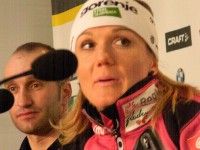 Petra Majdic started things off on a lighthearted note with a line about her fall at Whistler. "The organizers have told me all the "holes" on the course are all protected. In some ways it is still in my mind. But I am very happy with my win in Oberstdorf with my first victory. I am happy to be here in Oslo, I will do my best."
She made her final preparations in Doblach for three weeks at high-altitude it was a little risky. "I was not fresh in Drammen, but I feel better now here. I like the tracks in Oslo because they are not the easiest and will give everyone a very fair fight. Some of the girls are more aggressive than I am; the three uphills aren't too steep (on the sprint course). So the course should be good for me."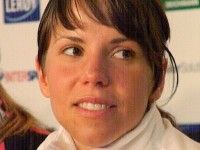 Sweden's Charlotte Kalla coming off a second place last weekend in the sprints told members of the press today, "I will start in every race except the team sprint, and my favourite race will be the last one… the 30km in skating.
"I also look forward to the relay. The World Championships are something I have looked forward to for a long time. Our team has had a great summer and fall, and there's a lot of strong young girls coming up and this helps me to improve as well."
Yet, current world cup points leader Poland's Justyna Kowalczyk will also figure in the mix, as will Arianna Follis of Italy. The Norwegians have a strong women's squad and relative newcomer Maiken Caspersen Falla is primed and ready for action.
Among the women's elite count Norway's ski queen Marit Bjorgen as a huge favourite and likely to take several medals at these events.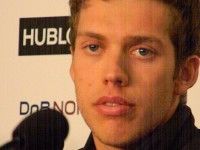 And it goes without saying that Norway's Petter Northug will be strong in all events, as will Swiss skier Dario Cologna along with Swedes Marcus Hellner and Emil Joensson. The Russians looked good today in practice as well.
Then it was time for Hellner. "We have the same great spirit like the women's team in Sweden. I will compete Wednesday – I have been waiting for this championships to start and I am like a child before Christmas," he said.
Lucas Bauer (CZE) said he was happy to be in Oslo adding, "it is much more easy for me to compete here than under the eye of the press. I like tough tracks, so it should be good for me here." Bauer is a powerful, tough skier who seems to be always near the top for the Czech Republic.
Nordic Combined athlete Felix Gottwald of Austria spoke of the new hills in Oslo. "I didn't jump so well today in training and that's okay – but I do want to jump well on Saturday. "
For the record, several USST combiners had a fine day of jump training with Todd Lodwick having one of the longest jumps of the day with a ride at 105.0 meters. Bill Demong and Bryan Fletcher all jumped beyond 100 meters in training as well.
Other combined picks must go to the highly regarded French skier, Jason Lamy Chappuis, born in Montana. Also watch for the pair of Norwegians Mikko Kokslien and Magnus Moan.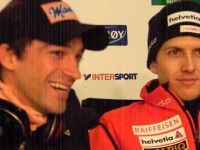 In ski jumping both Simon Amman of Switzerland and Andreas Kofler of Austria took part in the press function and appeared up beat and ready. They will face the likes of Tom Hilde of Norway and other top Austrians.
Team USA appears strong with a big women's team here led by the current world champion Lindsey Van from Park City. But the local crowds will be behind another great skiing pioneer, Anette Sagen, who took the bronze medal at the last championships in Liberec.
It looks to many that both the US and Canadian squads are heading into Oslo with strong skiers, and we expect to see some improved performances over the Liberec Worlds.
Record crowds are expected to attend these championships, while many rabid fans have already been camping out in the nearby forests near the racing trails to cheering for their favourites.
Yes, it's all good – xc skiing here is so much more than a sport, but truly "a way of life".