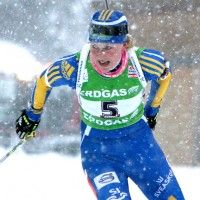 January 10, 2011 (Oberhof, Germany) – Laura Spector continued her solid showing at the Oberhof World Cup by placing 25th in Sunday's 12.5km mass start. Spector became the first US woman ever to compete in a mass start at the IBU World Cup, which features the top 30 biathletes from the sprint .
"Laura really made a strong impression today, especially in the first half of the race," said U.S. Biathlon Head Coach Per Nilsson in US Biathlon release. "Two clean shootings at prone were really good in a race like that."
Spector ended the day with just two misses in four shooting stages, finishing with a time of 43:28.8.
Helena Ekholm (SWE) grabbed her second win of the season adding to her World Cup pursuit victory in Hochfilzen. The Swedish biathlete shot clean for the day, finishing with a time of 39:22.9.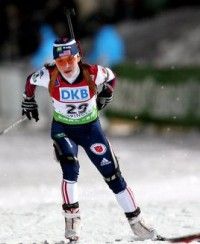 Ekholm said after the race that her plan was to simply shoot well and then let everything else fall into place. "I tried to stay back shoot well and then attack," Ekholm told IBU, "Andrea [Henkel] and Svetlana [Sleptsova] were skiing well in the final loop, and I just stayed behind them. When we came up the final hill before the finishing straight, I felt that I had more power, attacked at that point, and it worked out."
Henkel of Germany continued her solid showing in Oberhof by posting a 2nd place finish with a pair of misses, finishing just 1.6 seconds behind Ekholm. Russia's Sleptsova was just one of two racers, including Henkel, to shoot clean on the day, grabbing the third place finish with a time of 39:28.1.
No Canadian women qualified to compete in Sunday's mass start event. Spector's result puts her 36th overall in the overall IBU World Cup standings.
Full results HERE.
Results (Brief)
1. Helena Ekholm, SWE (0+0+0+0) 39:22.9
2. Andrea Henkel, GER (0+1+1+0) 39:24.5
3. Svetlana Sleptsova, RUS (0+0+0+0) 39:28.1
4. Maria Laure Brunet, FRA (0+0+0+1) 39:43.2
5. Ann Kristin Aafedt Flatland, NOR (0+0+1+0) 39:49.6
25. Laura Spector, USA (0+0+2+2) 43:28.8