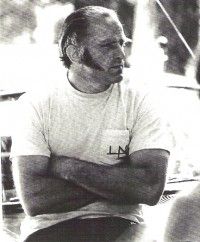 June 27, 2013 – The Birkie Ski Foundation and Telemark Lodge (closes again) – Am I the only one who sees what should happen here, especially as the Birkie's race calendar continues to fill out with more and more "silent sports" competitions? Yes, they should buy Telemark (!!!!) (Read about it HERE). No, I am not crazy! It is the perfect match and makes sense for the guarantee of the future of the race or races, BSF's business direction and further growth in their "silent sports" business.
I know, where is the money going to come from? I'd like to think that a business plan could, or would be put in place, as the reason and means to justify the move or venture to make this happen.
Think of what lies ahead – not just the guarantee of all of the current races – as BSF would own all the land (I understand 900 acres), which is critical to putting on all these events, but also the situation to grow more silent sports events and everything around them from a business point of view. I understand a real estate venture has been suggested to support this plan. You could also move all your offices to the Lodge making it BSF's operation central.
Your goal would be to make this the "Silent Sports" capital of North America, and host everything that makes these organizations run – all the way from their AGM's, training camps, seminars, clinics, international conferences, World Championships, events at all levels, World Cups and of course have all the necessary facilities and staff to support these events and programs at a Class A level.
I'm sure that there are 20 or more "silent sports" that have thousands of members, competitors and staff that run these organizations, and BSF could be there "go-to location" because it covers all of the bases and the needs to pull off any type of function or event of any level.
The new ED, Ben Popp may just been the young energy to make such a giant step forward able to happen!
Of course, I'm just touching the tip of the iceberg and I'm a dreamer – but, as many athletes know – their dreams do come true.
Totally Dumbfounded – Please read this here and and now read this here HOW DID THIS HAPPEN?
I know of Ken Read and he has alpine ski racing tattooed all over his body and has held just about every position there is when it comes to the domestic and international functioning of alpine ski racing in the world. Everyone knows Ken Read in the alpine world and beyond, and now cross-country skiing is going to get to know him through his new position, as a member of the CCC Board of Directors (BOD).
That is if he hangs around the BOD meetings longer then he did on election weekend – about three hours I hear. Just long enough to present himself to the board and answer a few questions… then a quick disappearance act. But, more importantly, why did this happen?
It just so happens Dave Wood (read more here) had brought his name forward for one of the available board positions this year. One would think someone with Wood's credentials would be a huge asset to the team, but according to rumors coming out of Canmore, Ken Read, "Mr. Alpine", was sought out to fill the position by the powers that be.
There has to be some payola down the road in the future, as I can see no other good reason to bring Read on board. The "politiking" within the present members of the association who vote for these candidates worked. Yet I'm sure they could have made it work if they'd chosen a Nordic candidate… then it wouldn't look quite so obvious as to what they had just pulled off.
The difference between Read and Wood for this position is like night and day, especially when you consider the level of hands-on international cross-country experience of the current board. Read brings nothing Nordic that I know of, yet Wood has done it all from Jack Rabbits to Olympic medals – what a shame to lose first-hand access to all of this.
The controversy surrounding Wood's resignation/firing back in 2010 lives on. CCC loses again.
Talk To You Soon.
PS – In all the assorted conversations I had over the past couple of weeks and articles I read, a couple of things became new information that I didn't know – one being CCC's masthead for administrative and technical staff (view it here and here). We're talking close to 30 paid positions. You can do this with $6 million. So, congratulations on marketing the team and the programs and for the success in the tracks. But, only one podium like the team had in Val di Fiemme, Italy at the WSC this past winter could see this $$ number cut in half. A lot of the assistants, and assistants to the assistants, will be headed down the hill come next spring – the program is called OWN The Podium. Lets hope the magic is back!