February 09, 2011 (Vernon, BC) – Only six days left to register for the 2011 Sparkling Hill Masters World Cup and Join the Excitement! Don't miss out on this great opportunity to experience a truly international Nordic Event. Come participate with skiers from over 20 countries.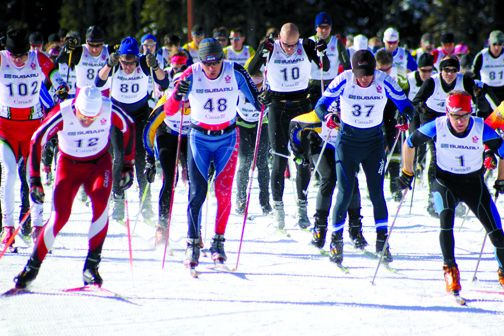 Registration deadline is February 14 and no late registration can be accepted. Registration information can be found in the Registration Section. For more information on the races and their categories, see the Competition Section.
Accommodation is still available both at Silver Star and in Vernon. Information about accommodation for the event can be found in the Accommodation Section of this website. Accommodation is booked directly with the accommodator. A shuttle service beginning March 3 is provided linking accomodation in Vernon and Silver Star to the Event at Sovereign Lake.
Spectators: Spectators are encouraged but there is no parking at the site. Parking is available in Silver Star Lot E and shuttle buses connect to the race site. Shuttle buses also run from Vernon. Athletes and event staff have priority on bus loading.
For information on travelling to the area, and for additional activities and events, please see the Travel Section of this website.
Volunteers are still needed. If you are interested in Volunteering for the event, please register as a volunteer through our online database.
Check our FAQ: if you need more information than found on these web pages, try consulting our FAQ (Frequently Asked Questions) document or contacting info@mwc2011.com.
With the generous support of Sparkling Hill Resort, Sovereign Lake Nordic Club is hosting the 2011 Sparkling Hill Masters World Cup of Cross Country Skiing. This Event is the world championships of cross country for skiers 30 years of age and above. The event attracts 1,100 to 1,400 racers from over 20 countries. The event lasts a week with daily classic and/or free technique ski races ranging from 5 to 45km in length.We would like to thank all of our sponsors, supporters and volunteers who are helping to make this a great event for our community and our international guests.
Raffle: Four prizes (7 night houseboat vacation plus others) and an early bird prize. See the January 2011 Newsletter for details. All proceeds to help fund this event. Prize draw at the closing banquet. The early bird draw is 4 p.m. Mon, Feb 14th at SLNC. Tickets can be purchased at Sovereign, Stussi, from OC members, Board members, Valhalla and Bean to Cup at SilverStar, Bulldog, Pinnacles & other places & persons around town & on the mountain.