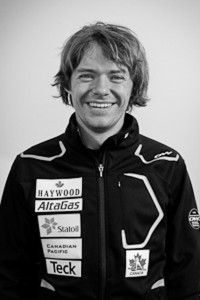 February 24, 2012 (Erzurum, Turkey) – Canada's Anne-Marie Comeau and Geoffrey Richards posted impressive top-20 results in their respective skiathlon races at the Junior World Championships in Erzurum, Turkey on Friday. In the women's 5km classic + 5km freestyle event, Comeau skied solidly in both techniques – 21st in classic, 20th in freestyle – and had one of the fastest transitions (6th) in the competition, eventually finishing in 18th. Comeau's performance is all the more impressive in that she is one of the youngest competitors at the these championships.
The women's skiathlon event was won by Slovenia's Nika Razinger. Canada's Dahria Beatty also had a good result finishing 23rd. Teammates Emilie Stewart-Jones and Janelle Greer placed 41st and 47th respectively.
Americans Mary O'Connell and Corey Stock finished in 42nd and 43rd, respectively, followed by Emily Hannah in 51st. Stephanie Kirk was a DNF.
In the men's 10km + 10km event, Richards shook off a weak classic leg (42nd), and after a quick transition, powered his way up into 20th position overall after skiing the 14th fastest skate leg. The USA also fielded a number of competitors in today's skiathlon events with Logan Hanneman posting a solid 23rd result. Today's men's race was won by Russia's multi-medalist Sergey Ustiugov.
Also racing today was Canada's Alexis Turgeon in 31st while Knute Johnsgaard was 49th. For the USA Michael Vigers finished in 54th, followed by Will Wicherski (57th) and Forrest Mahlen (72nd).
Women's skiathlon results HERE.
Men's skiathlon results HERE.