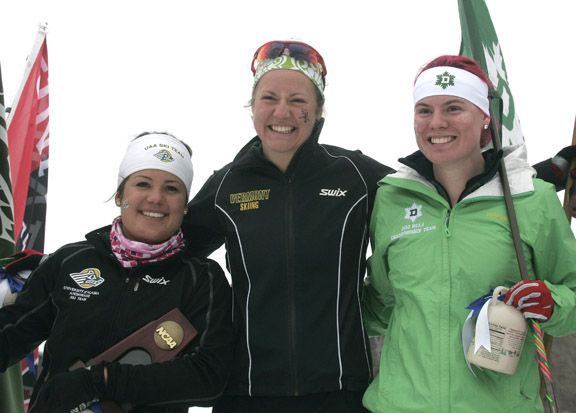 March 07, 2013 (Middlebury, VT) – Vermont's Anja Gruber took the women's 5km interval start FR crown for the host team at the famed Rikert Nordic Center with a time of 15:31.1 as the 60th annual 2013 NCAA Championships kicked off Day 2 in Middlebury, VT.
Dartmouth's Mary O'Connell, who hails from Steamboat Springs, was the last racer to cross the finish taking second overall. Freshman Marine Dusser from the Alaska Anchorage Seawolves finished third for All-American honours. Dusser, a local of Villard de Lans, France, completed the cross-country course in a time of 15:43.0 for her sixth career podium result.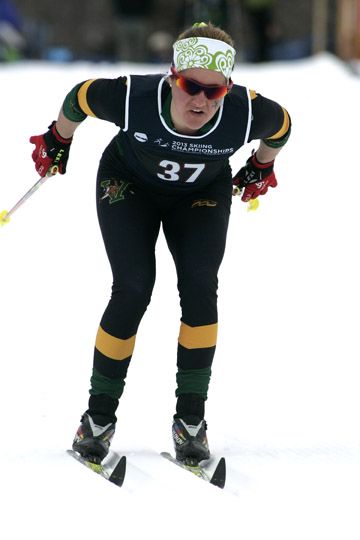 In the men's race, the University of Colorado, led by an individual title in the classical race from sophomore Rune Oedegaard, moved into second place at the midway point of the championships. Oedegaard won the 10-kilometer men's CL race in a time of 26 minutes and 0.2 seconds. He was just a couple of seconds off the lead at the first split, then took over the pace at the second split by nearly seven seconds and was ahead at the third and fourth splits for the victory.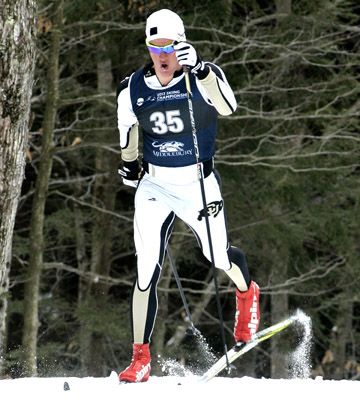 New Mexico's Mats Resaland finished second in 26:05.4. Making his NCAA debut with a third-place finish in the men's race was rookie, Viktor Braennmark, a native of Alvsbyn, Sweden, who registered a time of 26 minutes, 28.5 seconds, helping UAA place  three finishers in the top 10 for 108 points.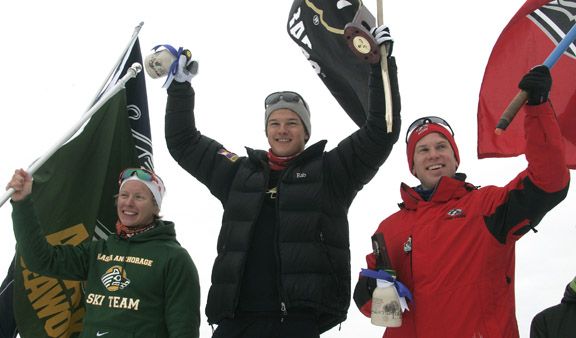 Defending champs Vermont maintained their first-day lead, extending it by five points as the Catamounts have 389 points through four of the eight events. The University of Colorado Buffaloes are next with 368.5 points, making up 31 points on UNM thanks to a 193-point day on Thursday, the best by any school in the 21-team field.
Results (brief)
Women
1. Anja Gruber, UVM, 15:31.0
2. Mary O'Connell, Dart., 15:42.2
3. Marine Dusser, UAA, 15:43.0
4. Joanne Reid, CU, 15:44.2
5. Sloane Storey, Utah, 16:02.1
6. Maria Nordstroem, CU, 16:03.3
7. Annie Hart, Dart., 16:04.1
8. Linda Davind-Malm, UVM, 16:05.7
9. Silje Benum, DU, 16:10.0
10. Anna Svendsen, Utah, 16:17.1
Men
1. Rune Oedegaard, CU, 26:00.2
2. Mats Resaland, UNM, 26:05.4
3. Viktor Brannmark, UAA, 26:28.5
4. Ben Lustgarten, Midd., 26:32.6
5. Silas Talbot, Dart., 26:37.7
6. Miles Havlick, Utah, 26:46.2
7. Scott Patterson, UVM, 26:46.2
8. Lasse Molgaard-Nielsen, UAA, 26:50.6
9. Lukas Ebner, UAA, 26:51.3
10. Erik Soderman, NMU, 26:56.5
Women HERE.
Men HERE.