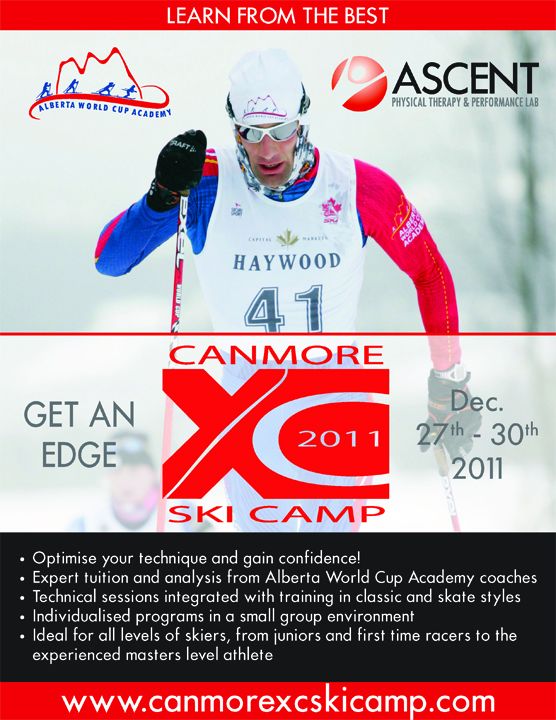 November 08, 2011 (Canmore, AB) – Ascent Performance Lab and the Alberta World Cup Academy are pleased to announce their first Cross Country Ski Camp – December 27-30, 2011.  Building on the excitement of Frozen Thunder and recent first ever on-snow sprint races at the Nordic Centre, this ski camp is aimed at senior and masters skiers who want to benefit from the world-class Canmore Nordic Centre, the professional services of the new Performance Lab at Ascent, and the superior coaching skills of the Alberta World Cup Academy.  This camp will enhance Canmore's reputation as the leading community for cross country skiing in Canada.
According to Mike Cavaliere, Program Director of the Academy: "This is an exciting opportunity to share with other senior and masters skiers the same coaching expertise we have been applying that's resulted in Olympians and national team skiers like Gordon Jewett, Madeleine Williams, Drew Goldsack and Allyson Marshall,  We're thrilled to partner with Shane Munro and the team at  Ascent to deliver a program that is unique in this country.  And, it will bring new visitors to Canmore over the holiday season!"
"We're able to offer this program because of our world-class facility – the Canmore Nordic Centre and the high quality of the wellness industry in Canmore", says Cavaliere.
For more information, contact:
Alicia Evans,
Endurance Coach and Camp Coordinator
Ascent Performance Lab
Ph 403 678 8855
email alicia@ascentperformance.com