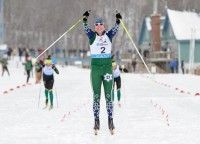 February 28, 2011 (Rumford, Maine) – Skiers reconvened at Black Mountain on Sunday for the second day of NCAA Eastern Regional Championships. The mass start classic races saw exciting action at the finish line, with skiers sprinting for top five positions and finishing within a few seconds of each other.
In the women's race, a sprint finish saw Rosie Brennan (DAR) upset series leader Caitlin Patterson (UVM), securing the win by three seconds, finishing in a time of 52:35.6 for the 15km mass start classic race. Patterson narrowly out-sprinted her UVM team mate Amy Glen, who settled for third by half a second. With Brennan's team mates Erika Flowers and Annie Hart sprinting for fourth Dartmouth put three skiers in the top five, Flowers crossing 4.8 seconds ahead of Hart.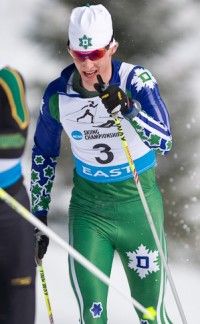 Eric Packer (DAR) repeated his performance on Saturday, taking the win in 1:01:33.2 for the men's 20km race. On Packer's heels were UVM's Scott Patterson in second place, down 8.3 seconds, and Dimitri Luthi (WIL), 12 seconds down. Packer's Dartmouth team mate David Sinclair was fourth, crossing in a time of 1:02:11.9, Benjamin Lustgarten (MID) picking up fifth in 1:02:47.6.
UVM lead the weekend with 501 points squeaking by Darmouth with 500 in second followed by UNH in third with 327 points.
Skiers are gearing up for NCAA Championships which will be hosted by the University of Vermont with the Nordic events running from March 9-11.
Women's results HERE.
Men's results HERE.
Women's Overall XC Ranking HERE.
Men's Overall XC Ranking HERE.
Top Combined Nordic Team Scores HERE.