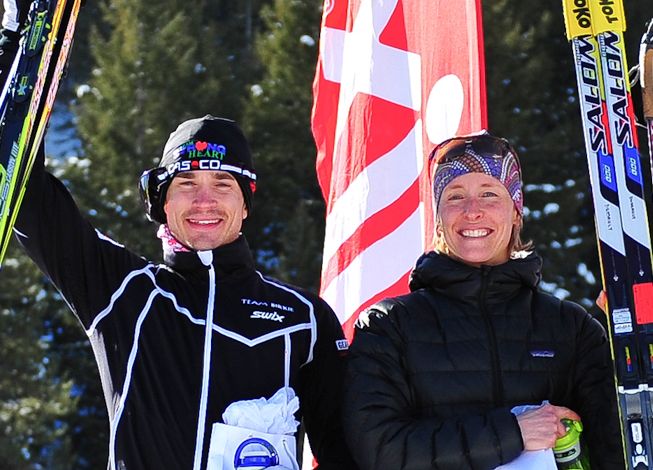 February 06, 2012 (Sun Valley, ID) – The Boulder Mountain Tour (BMT), one of America's longest running and most respected cross-country ski races, took place this past weekend in Sun Valley, Idaho, drawing a field of over 900 racers from across the country.
Clear skies allowed for a morning low of -12F, leaving cold sharp snow on the track. The BMT traversed the spectacular Boulder Mountains for 32km of breathtaking beauty and world-class competition. Thanks to race founder, the late Rob Kiesel, the BMT enjoys a stellar reputation that includes some of the finest skiing to be found anywhere on the planet combined with warm hospitality and first rate race organization. This year's edition of the event was dedicated to Kiesel, who passed away last October.
Matthew Liebsch (Team Strongheart/Team Birkie) was the victor in a tight men's competition completing the course in a time of 1:13:34.7, while Lars Flora (APU) won the two-up sprint for second against Nils Koons by a mere four-tenths of a second. Flora's finishing time was 1:13:47.1.
Rebecca Dussault won the overall women's race with a blistering time of 1:18:13.8 in an exciting sprint to sort out the podium order. Morgan Arritola was less than a second back for silver, with Chelsea Holmes right behind for bronze.
Full results HERE.