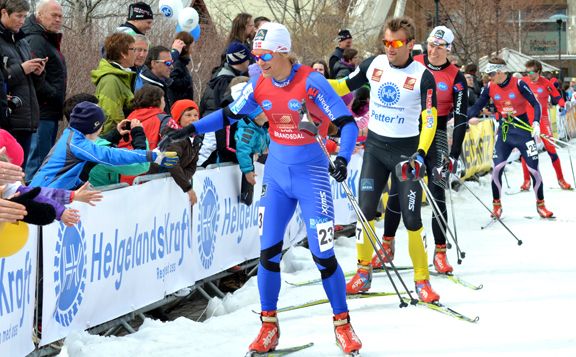 April 26, 2013 (Mosjøen, Norway) – Bysprinten, the popular nordic ski festival in Mosjøen, Norway, will be featured in a two-hour live broadcast on the Norwegian TV network TV4 on Saturday April 27. For those outside of Norway, Bysprinten will be streamed live online at www.bysprinten.no/live and www.helgeland-arbeiderblad.no .
Event Organizer Lyder Sund of Helgeland Event is excited about live coverage. He is very satisfied with the first live television broadcast from the race. "There is no doubt that live TV coverage is the important for us. When we negotiate with potential sponsors on a national level, there are always questions about TV coverage. We are much more appealing to the sponsor market when we can offer live broadcast," Sund said.
IEC in Sport will be producing the broadcast from the event, in cooperation with the crew from Bysprinten. Jon Ola Lien has been the producer the recent years, and the production has preliminary been shown on big screens at the arena. Also this year there is a big screen production, but at the same time the crew will be producing for internet and TV.
The company IEC is known as one of the largest producers of sporting events. In the world of skiing they are the producers of Swix ski Classics, but they produce many other sporting events. Among other, they cover 40 tennis tournaments every year.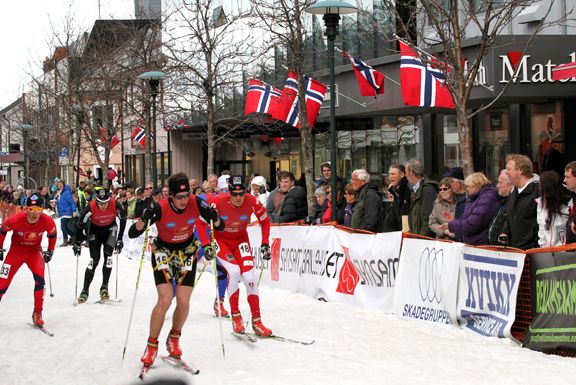 Entire Norwegian National Team to Bysprinten
Bysprinten will guaranteed be a fast race this Saturday. The event will see nearly the entire National ski sprint team from Norway.
The National team with Eirik Brandsdal, Anders Gløersen, Ola Vigen Hattestad, Tomas Northug, and Øystein Pettersen will all be at the starting line. Only Pål Golberg is absent from the race.
"The recent years we have had the best sprinters in the world in place, and it looks as if they enjoy themselves up here," said Lyder Sund.
Last year Eirik Brandsdal won just in front of Ola Vigen Hattestad after a dramatic last turn. Swedish Teodor Peterson had a lead, but crashed in a fence.
A Norwegian – Swedish duel?
History shows that the winners are hard to predict at this event, but we are confident that both Teodor Peterson and Robin Bryntesson are eager to beat the Norwegians. Little brother Cologna is also an exciting skier. He is a really good sprinter, says Sund. Gianluca Cologna is a new star this season. He is Swiss Champion, and has been in a final in the world cup.
Germany's Top Skier
Tobias Angerer (36) began as a sprinter many years ago, and has become the winningest German skier. In 2004, he won his first world cup race, and has in a total 10 world cup victories. He won the overall world cup in the 2005/2006 and 2006/07 season. In 2007 he became the first male winner of Tour de Ski. This year, he is finally ready to compete in Mosjøen.
"It is really exciting that he wants to come to Mosjøen. He is one of the world cups 'grand old men'," said Sund.
Bysprinten Start List
Women:
– Katja Visnar, Slovenia
– Denise Herrmann, Germany
– Charlotte Kalla, Sweden
– Mari Eide, Norway
– Maria Nysted Grønvoll, Norway
– Laurien van der Graaff, Switzerland
– Magdalena Pajala , Sweden
– Sanna Halberg, Sweden
– Elin Mohlin, Sweden
– Johanna Meyer, Sweden
– Ida Indahl, Sweden
Men:
– Ola Vigen Hattestad, Norway
– Øystein Pettersen, Norway
– Robin Bryntesson, Sweden
– Teodor Peterson, Sweden
– Niklas Dyrhaug, Norway
– Eirik Brandsdal, Norway
– Anders Gløersen, Norway
– Tobias Angerer, Germany
– Morten Vannebo, Norway
– Rolf Einar Jensen, Norway
– John K Dahl, Norway
– Kalle Lassila, Finland
– Daniell Heun, Switzerland
– Anders Tettli Rennemo, Norway
– Andreas Myran Steen, Norway
– Kristian Tettli Rennemo, Norway
– Chris Jespersen, Norway
– Joeri Kindschi, Switzerland
– Gianluca Cologna, Switzerland
– Håvard Klementsen, Norway
– Magnus Moan, Norway
– Tomas Northug, Norway
– Even Northug, Norway