April 22, 2013 (Canmore, AB) – The 2012/13 racing season is now long over. The snow, clinging desperately to the mountains, rocks and trees, is in deep discussions, begging to let go, turn to water, spurring the "actual" beginning of next season – one of growth, new beginnings and if you are me – debilitating allergies: spring.
Spring is losing here in Canmore as of now. Snowstorms still blow through the valley and the ski touring is still light's out delicious in the ranges behind the Bow Valley. But winter is waging a losing battle and while all good things come to an end – so too will the snowy peaks, cold temperatures and well, winter.
Speaking of winter – it's no secret that I envisioned last season going better. I was coming off a career best season in 2011/12. Those feelings of winning World Cups, finishing 2nd overall and 2nd in the distance cup were definitely fresh in the mind. Throughout the training season I was feeling stronger, fitter and faster physically for months on end – even though emotionally I could have been categorized easily by any high school girl within 30 seconds of hanging out with me as "a total mess." I can admit it. Still though – I was sure that this year I was going to be able to take that next, last little step needed after the strong foundation laid in 2011/12.
Instead, back in November I took a little step in the wrong direction – on a stronger concrete foundation in the shape of stairs – and tore a ligament in my foot. Not the best move only a week out from the season opener. I let myself get the better of myself – if you follow that – and instead of taking a step back and recovering fully I pushed on – taping it, getting therapy, icing it and wishing with all my energy that it'd heal magically.
It didn't and for the first 8 weeks of the racing season I had plenty of reminders that sometimes no amount of wishing and hoping can combat reality. I kept it within the team and asked that the team not discuss it publically. I guess I was just so motivated and hungry to have a good season, that if people started talking about it – it would get more real. It's hard to explain if you aren't an athlete and maybe you don't understand, but I felt as though if I was racing – even if it hurt – then it wasn't a huge deal….
As the winter rolled on, the results remained disappointing. I had some glimmers of "ok" feelings – a few top tens, 12th overall at the Tour de Ski, 4th at the World Championships with Alex in the team sprint – but on the whole I just wasn't feeling myself. Gone were the weekends of winning and on the podium. Coupled with the torn ligament, I contracted some rough food poisoning in France that reoccurred three more times from mid January to late February which wasn't a barrel of laughs either.
These aren't excuses – I know that I made some mistakes in my training season, we made some mistakes with regards to my race calendar, and some other smaller ones along the way, too, that seemed to have a bigger impact that we thought. I take full responsibility for that – but it wasn't the best to having health issues on top of that. At this level, it's a precarious place to hang out – between success and failure. Everything needs to come together and sometimes things just don't work out the way you planned or wanted them to for whatever reason.
The last month of the season continued to be tough. I had some more stomach issues early at the World Championships – which translated into one race where I felt good (the team sprint with Alex). After the World Championships – the spring World Cup was a rough period for our team too – as we just weren't able to deliver the results and good feelings that we'd become accustomed to when the World Cup heads back to Scandinavia in the spring.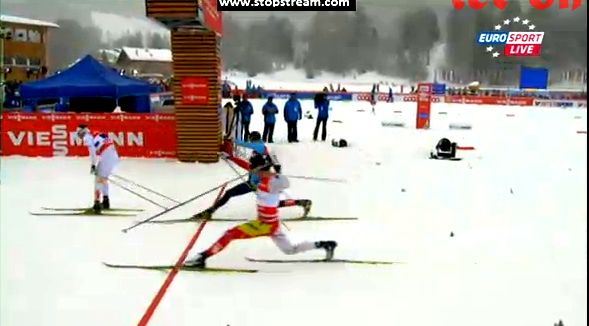 Looking back, it's amazing that we had the success we had at the World Championships at all – which I think speaks volumes of our team as a whole (staff, athletes, techs, everyone). Alex won a historic bronze in classic sprint – traditionally one of his weakest events. Babs was 4th in the 15km skate, and Alex and I finished agonizingly close to the bronze – 4th – in the team sprint.
Now it's time to inject some positivity – the cool and simply reality of spring is that things melt and start growing again. Those feelings of disappointment are melting away – we've had great discussions about what we did, what we can do better, and what we'll do moving forward and I'm 100% confident that we still have a great team and new plan moving forward.
I was pretty tired emotionally/mentally upon arriving in Canada and I've spent most of my time in the mountains back country skiing – healing the mind and letting go of all the disappointment. I've got out 14 days of the last 20, which has been both fantastic and rejuvenating. For me, in the spring time there's nothing better than backcountry skiing – you are way back in some mountain range with just you and your buddies, no internet, phone, nothing – it's simplicity at it's best and it's amazing.
Up next in the two-pronged "get ready to rock and roll" is the "real" rest – as I'm off to Maui tomorrow to check in on Lenny's tan – kidding! It'll be awesome to get some vitamin D, eat some delicious fish and tropical fruit, get completely thrashed in the waves and vibe out. I know that after that I'll be 100% ready to go for the Olympic training year. Hard to believe that this quadrennial came and went so quickly. I have some unfinished business there after finishing 4th and 5th in the last Games in Vancouver – so this year will be about simplifying things, training well, making good decisions and enjoying it.
We'll learn, adjust and attack going forward. My good friend and Canadian sports psych' extraordinaire likes to quote Andre Agassi's "I can live with disappointment, but I can't live with regret." Damn right. I was disappointed with how the season went – no question. But I don't regret it. I did what I thought was best at the time – it ended up being wrong. I made mistakes, I'm learning from them, and I'm fired up moving forward.
Lao Tzu wrote, "Succeeding is the coming together of all things beautiful and perseverance is the foundation of all actions." I couldn't agree more.
Enjoy your spring everyone and thanks for the support!
Devon