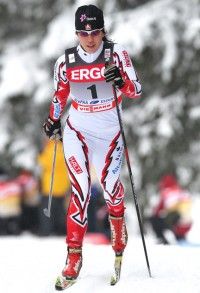 February 14, 2011 (Cantley, QC) – The Eastern Canadian Championships, hosted by Nakkertok, wrapped up on Sunday with familiar faces on the podium. With temperatures rising throughout the day, peaking just below zero, the weather was more settled than it had been for the previous races.
Emily Nishikawa (Whitehorse/AWCA) took the top step on the podium for the 3rd time this weekend as she won the 15km classic Pursuit. Leading from the word go, Nishikawa kept ahead of her rivals as she led from start to finish.
Sarah Daitch (Rocky Mountain Racers) narrowly beat out Alysson Marshall (AWCA/BCST) for 2nd place, just 15 seconds back. Heidi Widmer (Foothills Nordic/AWCA) and Alana Thomas (Nakkertok) rounded out the top 5.
"I'm so happy with how this weekend went. I felt strong in all three races and was skiing well," said Emily Nishikawa "The pursuit yesterday was a good race for me, I didn't know how far back the other girls were so I just focused on my race and pushed as hard as I could. I'm pretty pumped about winning the overall, and very happy for my brother as well."
Graham Nishikawa (Whitehorse/AWCA) took home his second gold medal, and third medal of the weekend, as he won the men's 30km classic pursuit. Nishikawa powered away from the rest of the field from the gun and by the half way mark, had nearly a minute on the rest of the field.
"I had a perfect race today," he told SkiTrax. "It was nerve racking being chased down by the field, but I just tried to focus on my own race and was able to ski away from the guys."
"Thirty kilometers was a long distance to ski solo. It took a lot of mental focus. I am very happy to have won the mini tour. The organizers did a great job with the event," added Nishikawa.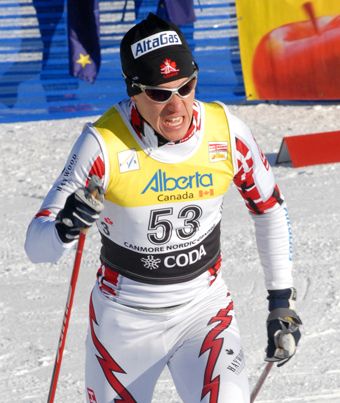 Kevin Sandau (Foothills Nordic/NST) was 1:22 back in second place, and Michael Somppi (Lappe Nordic/NDC T-Bay) took the bronze. Pate Neumann (Canmore Nordic/AWCA) and Karl Saidla (XC Ottawa) finished fourth and fifth, with Saidla posting the 2nd fastest men's time of the day.
Both Graham and Emily Nishikawa easily led the overall standings after the weekend of racing, Emily by more than a minute, and Graham by more than two minutes over their closest rivals.
"I am not sure about the future, but I hope to head to the World Cups in the spring, after some much needed rest," commented Graham Nishikawa.
This weekend's racing was the final NorAm event in Canada this season.