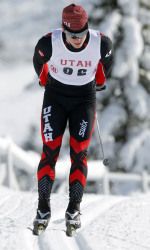 January 14, 2013 (Steamboat Springs, CO) – Senior Miles Havlick recorded his seventh career victory in the 10-km Classical at the CU/Spencer Nelson Invitational on Sunday in Steamboat Springs, Colo.
The Utes ended up fourth in the team standings with 723 points, which trailed third-place New Mexico by 18.5 points. Host Colorado came away with the meet title with 878 points. Utah put up a meet-high 124 points in the men's 10-km classical race on Sunday with a pair of Utes in the top three and three in the top 10.
Havlick turned in his second straight podium finish to start this season and he has finished third or better 21 times during his career as a Ute. The Boulder, Colo., native won the race by more than 10 seconds.
"Today, our team really demonstrated the grit and determination that make us so strong," Havlick said. "When it's -3F at the start of the race and there are smiles all around, you know it is going to be a great day.
"I want to dedicate my race today to my former teammate Charlie Smith, who finished on the podium at the NCAA Championships in the 15-km classical on this same course in 2010. He passed away over the holidays, but continues to be an inspiration to us all and constantly in our thoughts."
In his first year at Utah, senior Einar Ulsund turned in his first top-three effort with a third-place finish. Ulsund, a Trondheim, Norway native, finished fourth yesterday in the 20-km freestyle to cap an impressive debut weekend.
Noe Bellet and Tucker McCrerey finished 10th and 11th, respectively. Bellet rounded out Utah's scoring as its third finisher with his second consecutive 10th-place finish to start the 2013 season. Freshman Niklas Persson rounded out the Ute effort on the day with a 16th-place finish.
On the women's side in the 5-km Classical race, the Utes ranked second in the meet with 107 points as a pair of Utes finished among the top eight.
Senior Rose Kemp registered a third-place finish for her second straight top-10 effort to start this season. The Boise, Idaho native has now finished third or better three times over her Ute career.
Freshman Sloan Storey turned in the first top-10 finish of her career with an eighth-place effort after coming in 12th in yesterday's 15-km Freestyle event.
Senior Parker Tyler was Utah's third scorer with a 13th-place finish for her 18th career top-20 finish as a Ute. Marta Larsen completed Utah's effort with a 28th-place finish.
The Ute Alpine squad concluded its races for the Denver Invitational in Winter Park, Colo., on Sunday. Heading into next weekend's Nordic events, Utah stands in fourth place with 376 points, which is just eight points shy of third-place New Mexico. Host Denver leads the way with 457 points halfway through the meet.
"Congratulations to the whole team for their effort this whole weekend," Utah Head Alpine coach Jaka Korencan said. "We could not be more proud of this small group of athletes. We scored a lot of great results for NCAA qualification and performed well as a team at the same time. Unfortunately, Tim [Hribar] was not able to help us because he suffered a knee injury last weekend in Eldora. We all just hope he can return in Loveland in a couple of weeks."
In the ladies' slalom race, a pair of newcomers led the way for the Utes. Sophomore Ana Kobal turned in a fourth-place effort for her second top-five effort of the young season and the fourth top-10 performance.
"I am really impressed with our small women's team performing so consistently and glad that I can do my part," Kobal said. "I'm still not completely satisfied with my own performance. I know I can be much faster, but now I'm just looking forward to some rest and training."
Kobal's classmate, Kristiina Rove followed in fifth place as the Utes' second competitor among the top 10. Rove, an Espoo, Finland native, has been among the top 10 four times already in 2013. Junior Jaime DuPratt capped Utah's performance with a 26th-place finish.
"Our women's team again had a very solid performance today in the slalom," Korencan said. "To compete with just three women and have them all strong and safe in the finish is just a great accomplishment. They did an awesome job."
Utah's performance in the men's slalom was highlighted by freshman Andy Trow and junior Jeremy Elliot, who took 10th and 11th place, respectively. Trow has already finished in the top 10 three times in 2013. Senior Ryan Wilson placed 24th, while Eian Sandvik was disqualified during his second run.
"The highlight of today was Jeremy, who had won the second run and proved to himself and his teammates that he can really ski slalom," Korencan said. "I am just so excited for Jeremy to finally show what he has been doing in training in a race. Andy had a great day as well and finished strong. Unfortunately, Ryan and Eian made a few mistakes today, but I know they will return strong in Loveland."
The Utah Nordic team completes the Denver Invitational next weekend at Minturn, Colo. The 5/10-km Freestyle will be held next Saturday and the 10/15-km Classical race will be ran on Sunday.
CU/Spencer Nelson Invitational Results HERE.
DU Invitational Results HERE.