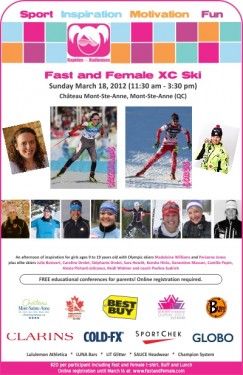 February 28, 2012 (Mont-Ste-Anne, QC) – Fast and Female will be traveling East for its second Cross-Country Ski event of the season as it hosts an activity on March 18, 2012 as part of the 2012 Haywood Ski Nationals at Mont-Ste-Anne in Quebec.
Fast and Female, a program launched seven years ago by 2006 Olympic gold medallist Chandra Crawford – is inviting 125 girls ages 9 to 19 for an afternoon of skiing, dancing and inspiration running from 11:30am to 3:30pm at the Château Mont-Ste-Anne.
All activities will be led by National Team member Perianne Jones as well as Former Olympian Madeleine Williams. Jones and Williams will be joined by a group of inspiring women from the XC ski community including racers Julie Boisvert, Caroline Drolet, Stéphanie Drolet, Sara Hewitt, Kendra Hicks, Camille Pepin, Alexia Pichard-Jolicoeur and Heidi Widmer plus coach Pavlina Sudrich.
Feeling a bit run-down as she comes off of racing in Europe, Jones is getting excited about the energy that this event will bring her. "Hopefully it'll carry me through the rest of the week," said Jones. "I hope to inspire, but also be inspired," added Jones who stepped on the podium for the first time of her young career this winter with teammate Crawford as they claimed the bronze in a World Cup cross-country skiing team sprint race in Milano, Italy.
Williams has been with Fast and Female since its inception and has never grown tired of seeing the bright faces of young girls enjoying sport and the positive empowering environment Fast and Female creates. "This event will be a fun-filled day to inspire and motivate every girl to live life to the fullest," said Williams who retired from competitive racing after participating in the 2010 Olympics and is now a full-time Law student at McGill University.
In addition to the March 18 activity for girls, Fast and Female will be offering free educational sessions for parents to increase awareness of how to support their female athletes. Parent seminar speakers will include Stéphane Barrette, Director of Coaching and Athlete Development for Cross-Country Canada and professor Guylaine Demers, PhD, from the Department of Physical Education of Laval University. Demers was named one of Canada's most influential women in sport in 2010 and will address the differences between coaching girls versus boys.
Earlier this season, Fast and Female hosted 95 girls for a XC Ski event held in Canmore, AB in conjunction with the Canadian Western Championships. That activity was led by ambassador and Olympic medalist Sara Renner. All Fast and Female events are intended to inspire and motivate girls to stick to sport.
Happening around this afternoon of Fast and Female fun are the Haywood Ski Nationals, a week-long championship taking place from the 17th to the 24th in la belle province. There will also be athletes racing for titles in the Cross Country University Championships (CCUNC) as well as race categories for Athletes with a Disability. These races will draw talent from around the country to compete against each other in what is sure to be fierce competition.
There is a $20 registration fee for the Fast and Female youth activities that includes a Fast and Female t-shirt, Buff and a healthy lunch. The parent seminar is free but requires online registration. Participants can secure a spot by signing up online before March 16 HERE.
Fast and Female would like to thank sponsors Cross-Country Canada, Best Buy Canada, 2012 Haywood Ski Nationals, Chateau Mont-Sainte-Anne, Buff Canada, Clarins Canada, Cold-FX, Sportchek, and Globo Shoes as well as Lululemon Athletica, LUNA Bars, LIT Glitter, SAUCE Headwear, and Champion System for making this event possible.
Note: Chandra Crawford and the rest of her teammates from the National Team will be back from Europe later in the week to compete at Nationals. The group will be welcoming female athletes for a Q&A session set for March 23 and hosted by Cross Country Canada's Women's Committee. For more information on this event, click HERE.