February 07, 2011 (Kelowna, BC) – Heavy snow greated the skiers on Sunday for the 3rd leg of the Haywood Multi-stage competition in Kelowna. The freestyle Handicap races got underway with the men's competition with Drew Goldsack first out of the blocks. Stefan Kuhn followed 10 seconds later with Graham Nishikawa another 5 seconds back.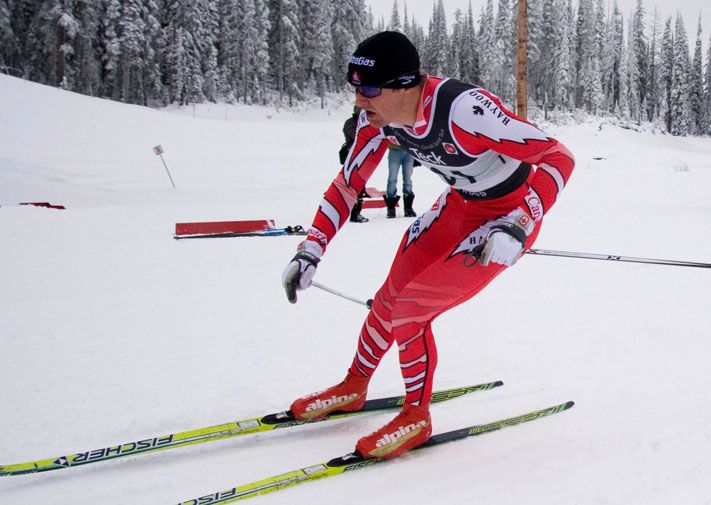 Nishikawa soon caught up to Goldsack and the two NST skiers battled the elements over the 15km course. In a sprint to the finish Goldsack finished .3 seconds infront of the Haywood NorAm leader. The race wasn't over however as George Grey, starting in a non-seeded wave start position had the fastest time of the day with a stage time of 38:20.8.
The Canadian multi-stage format allows skiers to compete for single stage honours ever if they miss a leg. In Grey's case, the 24-hour stomach flu kept him bed-bound during the prologue day.
SkiTrax caught up with Goldsack after his races: "It was a good weekend for me. The conditions have been excellent at the Telemark Ski Club. They've done a lot of improvements to the trails since the last time we raced here in 2003. The sprint course was pretty flat but a 200m+ finishing straight made it a suffer fest to the line. The Prologue and 15km (3x5km) courses were quite tough with some really short and hard steep pitches," he commented.
"I'm finally coming back into some better shape after being sick. I was feeling pretty good this weekend but I'd say I'm not quite back to the form I had before Christmas," added Goldsack.
The heavy snow didn't seem to hold back National Team skier Perianne Jones as she steadily pulled away from the Women's field finishing 2:27 in front of Junior skier Maya MacIsaac-Jones of the Rocky Mtn Racers. MacIsaac-Jones started 5th on the grid. Andrea Dupont finished 3rd with the 4th fastest time on the day while Rebecca Reid, another young Junior finished with the 3rd fastest time on the day and 5th overall.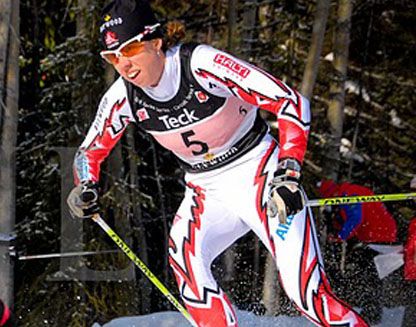 In the Junior Girls Pursuit, Suzanne Stevenson of Foothills started beside Jill Reynolds of Black Jack and battled over the 5km course only to pull away over the last 60 meters to a 3-second victory. Susanne Fraser of Black Jack finished 3rd in the multi-stage event.
In the Junior Boys Pursuit, Julien Locke of Black Jack was the strongest on the day and won the overall multi-stage race by 50 seconds. Colin Ferrie skiing for Kimberley Nordic picked up second overall and a silver for the stage while Matt Saurett of Edmonton Nordic moved from 5th on the grid to take third on the day.
Mass start events completed the Haywood NorAm Western Canadians in Juvenile, Midget and younger age categories. Almost 450 skiers competed at Telemark, making the 2011 edition of the Western Canadians one of the largest ever.