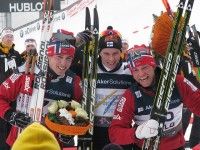 March 03, 2011 (Oslo, Norway) – What a day for Finland (or two days). Ahvo and I cheer for everyone, but there is an innate tendency for us to cheer for Finnish skiers and American skiers just a little bit louder – and now Canadians as well, since we're writing for a publication based in Toronto. Ahvo was born in Finland and made his career in the US whereas Ritva was born in the US, but currently makes her home in Finland.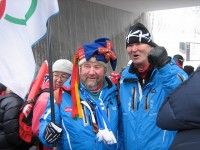 Norwegians are great sport fans as they cheer for everyone out on the trail or coming into the finish, but an eerie silence can fall over the crowd for a spell if the Norwegians are not in the number one spot.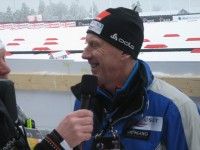 After Matti Heikkinen's win he thanked the crowd for their support throughout the race. The hometown crowd certainly cheered for Heikkinen, but naturally they cheer louder for their countrymen.
Throughout the World Championships we have observed excellent sportsmanship on the part of the competitors and the fans. Every day you can see fans congratulating fans from other countries – this is truly a celebration of the sport and not just championship races.
View more photos HERE.
Today we caught up with Oddvar Bra, reps from Salomon and Fischer and some members of the Finnish team:
Oddvar Bra

Salmon (Alexander Haas) Part I

Salmon (Alexander Haas) Part II

Fischer (Thomas)

One of the Finnish Team Leaders

Toni Roponen (Matti Heikkinen's personal coach)