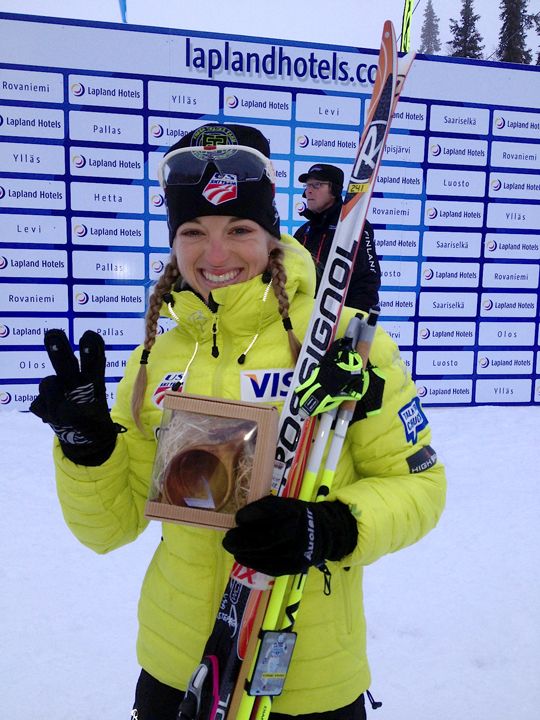 June 28, 2013 – Liz Stephen of the US Ski team had a historic year in 2012/13, placing 5th in the 10k freestyle at the 2013 World Ski Championships (a best-ever finish for a US female), winning the Swiss National Championship 5km FR, along with a victory at the U.S. Distance Championships 30km CL.
Stephen was also part of the 4×5 km World Championships relay team that made US Ski team women's history placing 4th. She was also part of the Olympic squad in 2010 and earned bronze at the U23 World Championships in 2008.
You were over in Norway for a personal training camp, and were recently up on the Sognefjell Snowfield. Are you training with specific athletes or did you join a Norwegian ski team camp?
Liz Stephen: I joined up with the Norwegian ski team for their 6-day camp. It was a really great experience and I am really grateful to their coaches, Egil and Roar who made it possible for me to join. I have really enjoyed the last two summers when I have gone over to Scandinavia to train with some new skiers and have made lasting friendships that makes living in Europe for five months much more enjoyable. Part of what is so great about this sport is making friends, but also learning from one another and trying to raise the level of the whole sport by sharing training ideas, pushing one another, and getting to know the other athletes. It's been a really fun and beneficial experience for me, and I was welcomed with open arms by the Norwegian Team and even spent three extra days in Oslo at Celine Brun Lie's house because I was having so much fun with the girls I didn't want to leave quite yet!
Last summer you and your US ski team teammates shared in a camp with the Swedish Women's Ski Team in Sweden, and have had joint camps with the Canadian women in Alaska the past two summers. These must be positive experiences if you continue to do them each year?
LS: YES! Very positive! I have made so many new friends, learned so much from the Swedish and Norwegian Teams and had a really good time training hard with new groups of athletes. I think it really gives me a jump start to my summer of training and adds an element of fun that gets me psyched to work hard for the next four months before we hit the road in November again.
For North American athletes you spend most if not all of the winter in Europe. Does having friends on the different teams make the time away from home an easier experience?
LS: Yes, for sure. Our women's team all feels like after spending time with the Swedish National Team last year we all have a great group of friends to hang with each weekend, and it makes the whole scene seem more like home and less intimidating. If you are away from home for five months, only spending time with your teammates, and racing 70 girls whom you only know by name, the scene gets very stale. Now that we feel we have friends in those 70 people who used to be just names on a result sheet, the whole atmosphere lightens and becomes much easier to enjoy and as a result, ski faster. Happy athletes perform better.
You are coming off your strongest World Cup season ever, and recorded the best ever distance finish (5th place 10km free technique) for a US female cross-country skier at the recent 2013 World Championships in Val di Fiemme, Italy. After such a successful season do you make any changes this summer or just try and replicate last year's plan?
L.S.: There are always changes that I make to the training each year. Some years the changes are big and some years just little tweaks, but there are always things that I think of during the season, even on a good year that I think I can improve on during the next season's preparation period. This year, I will just tweak the training from last year a bit, adding certain elements that I think were lacking a bit during the season, and taking away things that I tried but didn't think made much of a difference.
You and your teammates gathered a great deal of attention at the start of the season with your first ever World Cup 4 x 5km relay podium, and followed up with a 4th place finish in the same event at the World Championships. Is an Olympic medal in the relay at "team" goal for the coming year in Sochi?
LS: Yes, that is for sure a huge goal of ours, and it is for sure my biggest goal for next year. I can't imagine a more meaningful medal than one that is won by a team of people, though I believe any medal that is won, even individually, takes a team to make it happen.
If you don't mind sharing, what are your individual goals from the coming year?
LS: My goals for the year are for a top 10 at the Tour de Ski, be a consistent top-10 World Cup skier, and my biggest individual race focus will be the Olympic 30K Freestyle race where I hope to win a medal.
Read more HERE.