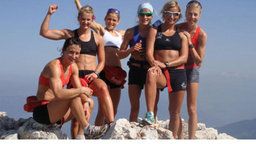 September 20, 2011 – Norwegian Cross-Country athletes have had smooth summer and good training season so far, but there are still two months to go till the FIS Cross-Country World Cup kicks off in Beitostolen… and there are over three months to go till the winter highlight, this year's FIS Tour de Ski.
"We've had only few injuries and illness in the national teams this training season. In general, everything runs very well. We are certainly on good track," says head coach Vidar Løfshus.
Løfshus has been relatively new in the top position being responsible for various national teams in the World Cup season. He knows the season is approaching, but does not deny that he is looking forward to it.
"It is very fun to get started with the season, and I think we have many that will show their teeth," Løfshus thinks.
Løfshus has praised both of the new national team coaches for having done very good progress. Junior team coach Sjur Ole Svarstad and men's distance team coach Trond Nystad's were hired before the training season.
"Both of them have made very good impression so far. They also have established good dialogue with athletes, service and generally with the whole team," says Løfshus.
Twenty-two days in the height
In August, before the FIS Rollerski World Championships and Toppidrettsveka in Aure/Kristiansund, Trond Nystad took the men's distance team to the training camp in Oberhof for the first time. Ladies' team spent the August training camp in the idyllic surroundings of Hummelfjell in Os. Norwegian Junior teams were also there at the training camps.
In late August the teams left for the traditional high altitude training stay at Seiser Alm and Livigno, while the men's sprint team went to Ramsau. Tord Asle Gjerdalen, Sjur Røthe, Martin Johnsrud Sundby and Petter Northug stayed longer in Livigno and could enjoy perfect training conditions during the last training week there. The quartet extended the high altitude stay by a week and experienced almost ideal conditions. Northug and Co. carried out twenty-two days in a row at the training camp.
Training Camps in Norway
After the high altitude stay in middle Europe, three Norwegian national teams will meet in three different places next week. Men's distance team will kick off their gathering in Drammen on Tuesday, ladies' squad left for Kvitfjell and sprinters will meet in Gjøvik. October will feature, traditional training camps in Livigno (sprint team) and at Val Senales (distance teams). Last week the sprint specialists started on Mallorca their final dry land training phase before the winter World Cup season.
Before the Norwegian national Cross-Country season opening in Beitostølen Norwegian national teams plan to meet at Gala.