April 04, 2012 – The book titled "Wild Shot" is now available. Wild Shot is outwardly about the external physical demands and internal mental demands of the winter sports of Cross Country Skiing and Biathlon. Author Andy Liebner discovers that sport is not just about training and competition; it's a metaphor for a deeper aspect of life. Sport is a quest! To rise to the top requires a heroic journey to encounter and overcome external and internal barriers, and Andy runs into far more of them than you might think possible. The barriers are relentless. But he learns that his biggest enemy is inside his head and if he masters his fears then he wins.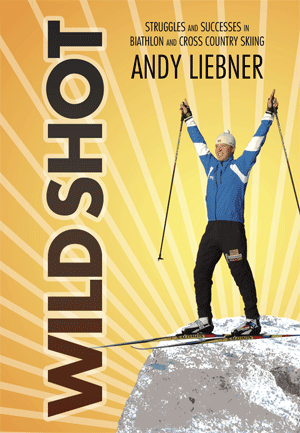 Author Biography of Andy Liebner – Wild Shot
Andy Liebner is a fast young Alaskan who went from top junior and collegiate XC ski racing results to signing up for the military the day after 9-11 to then racing around the world to see how far he could go in XC skiing and biathlon. He had many surprising adventures along the way and learned what it means to go it alone (with help from friends). Breakthroughs and frustrations alike abound in his story. The barriers were ENDLESS and only got BIGGER, yet Andy persevered. The finale is fascinating with major twists.
Andy particularly enjoys training with various pals, including some of the best athletes in the world — such as the #1 all-time biathlete, "King Ole," Ole Einar Bjorndalen. He's trying to see what they do that makes them so good and he passes along what he learns. Andy includes practical insights on the factors separating skiers who are on their way up, including his best tips for technique, and advice on the toughest challenge: the mind game. His races give us heat-of-the-moment action ranging from DQ's to big wins.
There's business and marketing, too, when Andy starts repping for a wax company in the middle of racing and then becomes in demand as a winning wax tech. But he just wants to race!
It's 250 pages of page-burning fun — with nail-biting cliffhangers.
In 2010 Andy won the US Marathon series and in 2011 he won the U.S. National College Cup and added two more All-American certificates to his resume. Nowadays he's back to globetrotting, coaching Olympians, and working in the ski industry.