April 08, 2017 (Scandinavia) – For the second time this season a group of skiers from Team Hardwood headed to Scandinavia to race and train. Departing directly after the Canadian National Championships in Canmore, the team composed of Joey Foster, Jessica Roach, Shilo Rousseau, Zoe Pekos, Alec MacLean, Hannah Story-Korman and coach Jack Sasseville flew to Gothenburg Sweden and then drove to race in the Norwegian Championships in Gaalaa, Norway.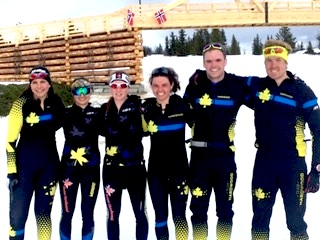 The group arrived with just one day of training before competing with the best skiers in Norway in a Team Sprint on Thursday March 30, a 5 or 10 km skate race on the 31st and the Tre-topper loppet on April 2. (This was a very special race where the skiers climbed over 900 meters in 15 km up and down 3 mountains.
The main purpose of the trip was to give these up and coming young skiers the international experience that they will need in the future if they are to help the next generation of Canadian skiers to be competitive on the world cross country ski scene.
Skiing against the likes of Martin Johnsrud Sundby, Marit Bjoergen, Johannes Klaebo and Petter Northug gave this group of junior and U23 skiers some incredible international racing experience. Living and travelling in a nation where cross country skiing is the #1 sport also gave them the experience that they will need in being prepared to travel and live in Europe.
After the first week the group then drove to Bruksvallarna, Sweden for three more races against top international competition. These races saw them race with Dario Cologna from Switzerland along with top Swedish skiers led by Stina Nillson. Johannes Klaebo and Niklas Dyrhaug also made the trip over from Norway.
The skiers competed in an individual sprint race, a 100 meter sprint race and a 31 km loppet in the mountains around Bruksvallarna.At the end of the trip everyone agreed that this experience will help them in the future to be better international skiers. In North America we have to be prepared to race in Europe if we are going to be successful skiers. The World Cup takes place primarily in Europe and most of the races that count are there.
Team Hardwood is committed to providing these racing experiences to the skiers on the team. Next season the team will travel to Norway and Sweden in the late fall and early winter for racing and training as well as to other races in Europe and across North America throughout the winter.