December 14, 2017 (Gatineau, Que.) – High spirits marked the Gatineau Loppet Organizing Committee's official launch of the festivities surrounding the 40th edition of the biggest international cross-country ski event in Canada. Thousands of local skiers, and visitors from some 20 countries around the world, will meet up in the Outaouais on February 16, 17 and 18, 2018 to hit the magnificent Gatineau Park trails and express their passion for cross-country skiing and winter sports.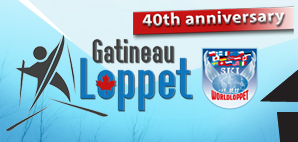 Special projects for the 40th anniversary
For this 40th anniversary, the Gatineau Loppet Board of Directors agreed on a number of specific projects to mark the event in a fitting way.
Unique linear routes: The 2018 Gatineau Loppet program lineup will include three linear routes. The 51 km classic style (Saturday, February 17) and the brand new 51 km freestyle (Sunday, February 18) will be the main features at P17 in the La Pêche municipality. Those two routes will cut south through Gatineau Park amidst enchanting landscapes! However, freestyle skiers will ONLY have access to trail 36 on race day, Sunday, February 18 (this trail is normally reserved for classic style skiers). Another new feature this year is the 40 km linear fat bike race, from Chelsea to the Hautes-Plaines golf course (the meeting place for the fat bike races).
Recognition program: In collaboration with Nordik spa nature, the Gatineau Loppet is launching a whole new recognition program in addition to the Legend's Path and the Veterans Club. That program will specifically recognize skiers who take part in two races a year (Saturday and Sunday). Doing that for three years will earn those skiers the title of Nordik skier, and entitle them, among other things, to a VIP evening at Nordik spa-nature. Additional details will follow in January.
Entertainment: As part of its efforts to enhance the experience, every year, the Gatineau Loppet rolls out the red carpet. The aim is to treat visitors from abroad to a Canadian experience, and to give local participants a festive and unmissable winter experience! Maple taffy on snow, festive refreshment stations all along the route, entertainment upon arrival, traditional music, true flavours of Canada, local beers, activities for the youngsters, hot chocolate…are sure to delight all participants.
School day: In order to help foster the next generation of cross-country skiers and expose young people as much as possible to winter's delights, the Gatineau Loppet is launching a school activity for youth between 9 and 12 years of age on Friday, February 16. This wonderful new program will involve 250 youth in cross-country, snowshoe, foot races and other fun games to introduce them to the Gatineau Loppet as well as to discover other ways of moving and making the most of the great winter oudoors.
Something for Everyone
The Gatineau Loppet invites all winter sport fans, from beginners to experts, to take part in its 40th edition! With cross-country skiing, fat bike racing and snowshoeing over distances ranging between 2 km and 51 km…there is something for everyone over the race weekend. Saturday, February 17 will be dedicated to the classic style, with the 5 km (Physio Avantage Plus), 15 km (Auclair), 27 km (Otto's BMW/SUBARU) and the 51 km linear (Swix) races. Fat bike races will be featured in collaboration with OMBA (Ottawa Mountain Bike Association), with 10 km, 20 km and 40 km (linear) starting from the municipality of Chelsea (40 km) and the Hautes-Plaines golf course. On Sunday, February 19, the Mini 2 km (Sport échange Outaouais) and the Carnaval Soleil Polaire, the 10 km (MEC), the 27 km (NCC) and the 51 km linear will be all about freestyle. There will also be 2 km, 5 km and 10 km snowshoe races, and the Gatineau Loppet will host the Canadian 10 km snowshoe championship.
Registration
Cross-country skiers can still take full advantage of the Gatineau Loppet at the discounted rate. Skiers can register online until Wednesday, February 14, but the discount ends at midnight, this coming sunday, december 17.
The Gatineau Loppet would like to thank its partners, Ville de Gatineau, Canada Economic Development, the Government of Quebec through Tourisme Québec, Tourisme Outaouais, which this year once again is featuring cross-country skiing front and centre in its winter campaign, the National Capital Commission and Gatineau Park, which has welcomed us for the past 39 years, the municipalities of Chelsea and La Pêche, Winterlude, the Centre local de développement des Collines-de-l'Outaouais, the Embassy of Sweden, Swix, Nordik Group, Hendrick Farm, Otto's BMW and Subaru, Auclair, Fischer, MEC, Sport Échange Outaouais, Chelsea Pub, Biscotti, Xact Nutrition, Physio Avantage Plus, Crowne Plaza, Ramada Plaza Manoir du Casino and the many official suppliers, and corporate and media partners.
For additional information, check the Gatineau Loppet Web site here.