January 08, 2018 (Anchorage, Alaska) – Everyone knows exactly what Anchorage's Tyler Kornfield (APU Nordic Ski Team) can do on skis: he's a classic sprint killer, a perennial podium resident in the event at nationals and owner of two titles (2010 and 2012). Those supreme sprint skills, and a Kincaid Park familiarity, gave the tall, double-poling machine the edge as he burst away from a tight pack of seven skiers in the final stretch of the grueling men's 30km event for his first classic distance national crown at the 2018 L.L.Bean U.S. Cross Country Championships on Sunday.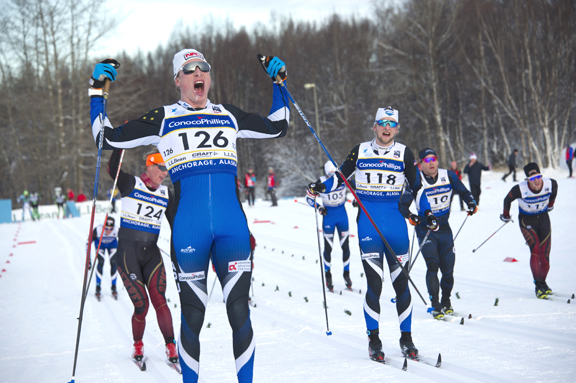 "Two (kilometers) out, I felt fast and knew I had to make my move," said Kornfield, who has that final sprint stretch ingrained in his muscle memory having trained and raced on it for years. "And I knew if I didn't go hard, I'd regret it for the rest of my life."
That determination quickly turned into an explosion of emotion, a yell and an emphatic two-pole fist-pump when he crossed the finish line at 1 hour, 21 minutes and 43.6 seconds. How dramatic was the race's ending? In a field of 54 finishers, four skiers crossed within two seconds of Kornfield; two more were within three seconds. Kornfield's APU teammate Eric Packer was closest, just .7 seconds back. Norway's Eivind Romberg Kvaale (University of Denver) was third overall at 1:21:44.7, followed by Nordic legend Kris Freeman (Caldwell Sport), the third-fastest American at 1:21:45.2.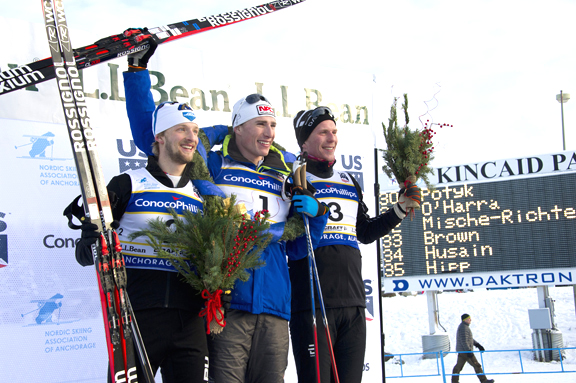 "I looked at the course yesterday and thought about it last night," Kornfield said. "And in my mind, I pictured how I could win it. … But it's unbelievable. I've never had emotions like this after a race."
Packer was all smiles, adding, "It was a really high-speed race out there. … The APU coaches gave us really good skis to be able to go 1-2."
APU's Hunter Wonders won the male 10K, followed by Stratton Mt. School's Benjamin Ogden (U18), APU's Canyon Tobin, University of Vermont's Karl Schulz and APU's Luke Jager.
This week's races crown National champions and are also used as part of the selection process for Olympic berths and to determine roster spots on the FIS Junior World Championship, U23 Championship and U18 Scandinavian Cup teams. While primary selection for the 2018 Olympic Cross Country Team comes from World Cup races, some final spots can be determined from Nationals results. Olympic team nominations will be announced the week of January 23.
Remaining event schedule
All races at Kincaid Park; schedule subject to change; exact start times and starters lists will be determined prior to each race
10 a.m.-4 p.m. Monday, January 8: Men's and women's classic sprints
Find a full schedule – race days and off-days here.
Men's results here.