March 12, 2017 (Kontiolahti, Finland) – Americans Susan Dunklee and Lowell Bailey delivered a stellar silver in the single mixed relay at the BMW IBU World Cup 8 in Kontiolahti combing forces to win the USA's first team medal in 23 years.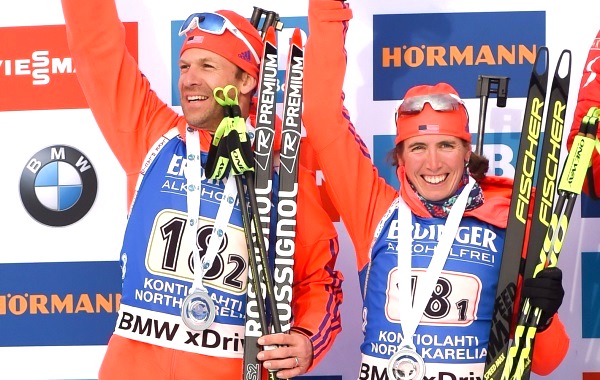 Austria's Lisa Hauser and Simon Eder claimed the single mixed relay victory with five spare rounds in 31:35.1. Dunklee and Bailey also used five spares to finish at 32.8 seconds back while Germany's Roman Rees and Laura Dahlmeier took the bronze medal with six spares at 0.05s behind Team USA.
Canada's Julia Ransom and Christian Gow used eight spare rounds on their way to a 19-place finish in today's competition.
Dunklee recovered from a fall on a downhill section and Bailey out-sprinted two other teams to secure the podium for the American duo. It was the first single mixed relay competition for both Dunklee and Bailey and the first team medal for the U.S.since a silver medal in the women's relay at the 1994 World Cup in Canmore, Alberta, Canada.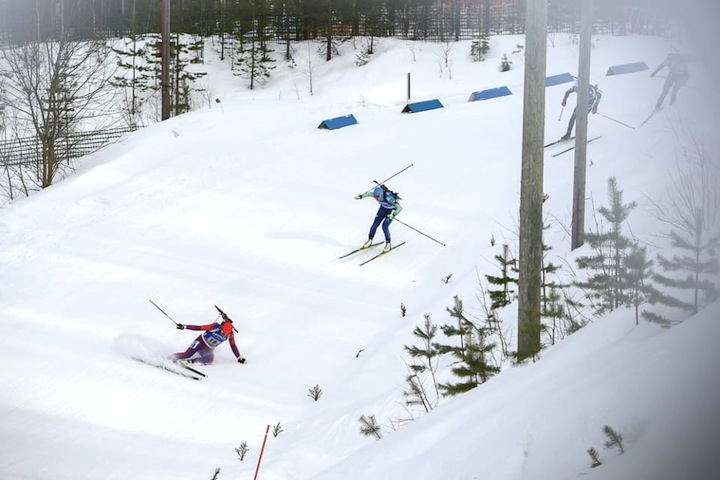 "This feels incredible," said Dunklee. "I have dreamed for a long time about running into the finishing pen to welcome a teammate for a relay podium. We have known a team podium could be possible for a long time, but everyone needs to have a great day on the same day."
Dunklee kicked off the race with a clean round in prone and left the range with leader Lisa Vittozzi of Italy. She surged to the head of the race on the second loop but fell while navigating a downhill section, knocking her back to 10th place.
"I got tricked into a nosedive by the snowsnakes," Dunklee joked. "They're clever little creatures that hang out on downhills and trip the unsuspecting skier. I spent the rest of the loop regaining my good focus so I'd feel composed at the range."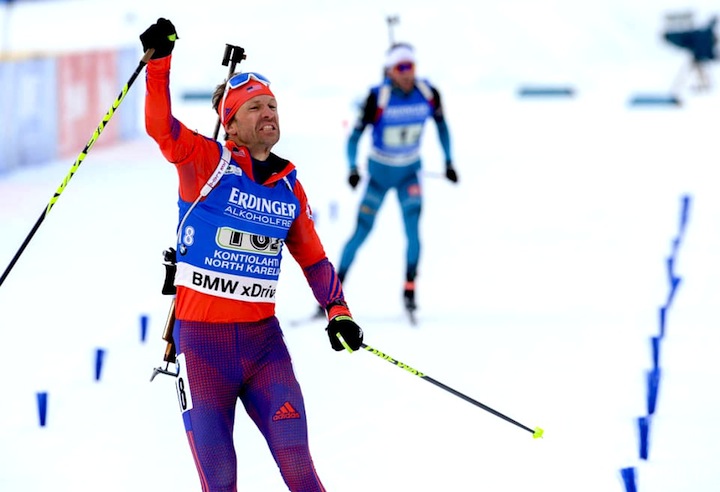 With steely resolve, Dunklee regrouped to not only clean the next standing stage but also post the fastest shooting time and fastest range time. Her effort brought Team USA back up to third place, just 8.9 seconds out of the lead as Dunklee tagged off to Bailey.
Bailey immediately took control of the race, leading the pack into and out of the range where he shot clean, making the team 15 of 15 at that point. The first hiccup on the range came in the next standing state where Bailey needed two spare rounds to hit all five targets.
"It was a fun race, full of tactics and a great experience," said Bailey. "It was thrilling to be able to share the podium with Susan."
Bailey made the second exchange with Dunklee in fifth place, 17.2 seconds off the pace. Another clean round for Dunklee in prone put the U.S. back into third place and, despite needing two extra rounds in standing, Dunklee moved the team up to second, 12.8 seconds back of the lead by the time she made the final exchange with Bailey.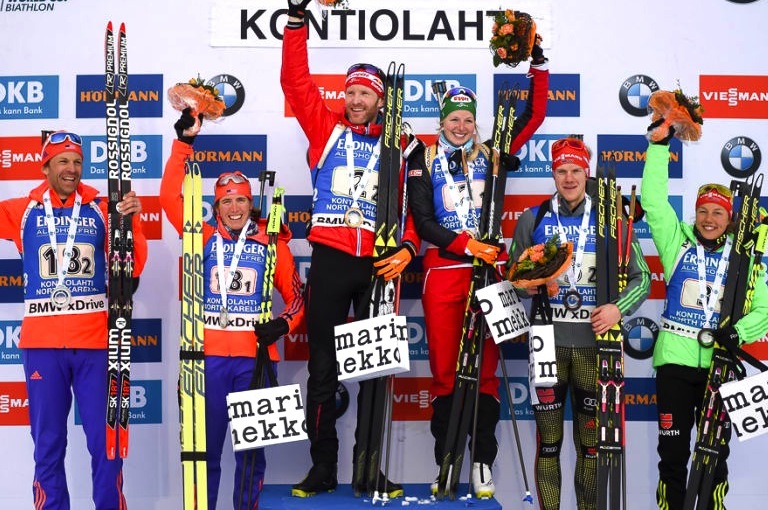 A clean round in prone and just one spare in standing by Bailey kept the American duo in medal contention. With the Austrian team far out in front, the final loop came down to a three-team race for the final two podium spots. Bailey found himself in a battle with Germany's Roman Rees and  France's Jean Guillaume Beatrix over the final kilometer.
"After standing, I could see Rees ahead of me and I just tried to sprint from the mat," Bailey added. "I knew Jean Guillaume is a good sprinter so I knew, regardless of whether or not I caught Rees, I would have to have a good lap just to stay ahead of France."
Coming around the final corner, Bailey was neck-and-neck with Rees but pulled away to edge the German by half a second.
"Luckily, my legs held out and I was able to get ahead by the finish line," said Bailey.
"Lowell threw down a heroic last loop with smart tactics to catch Germany and I'm really proud of him," added Dunklee.
Results here.