April 16, 2017 (Albuquerque, NM) – Late last week the University of New Mexico's VP of Athletics, Paul Krebs, delivered some somber news that the men's and women's ski programs would no longer be supported due to budget cuts. Apparently the state and UNM are under the gun and "This is truly a last resort for us." said Krebs in the official release which will accrue a saving of $600,000.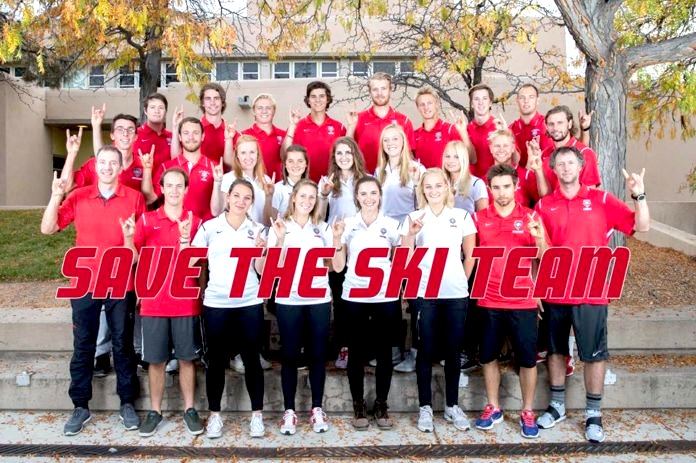 Meanwhile Locals have rallied behind the Lobos UNM ski team with a 6,000+ strong petition signed and several campaigns to save the programs which are claimed to bring in revenues of $524.1 million to the state – read more in the Sangre de Cristo Chronicle
here
– see the petition
here
– and official release below.
Lobos to Discontinue Men's and Women's Skiing
ALBUQUERQUE, N.M. — Vice President for Athletics Paul Krebs has announced that due to impending budget cuts and rising costs, The University of New Mexico will reduce its sports programs from 22 to 20 with the decision to no longer sponsor  the men's and women's ski programs.  The decision will save the department approximately $600,000 per year in operating budget, scholarships and salaries.
"This is a very difficult decision to come to," said Krebs.  "The University of New Mexico, as well as our entire state, is in very tough and challenging economic times. This is truly a last resort for us. Taking away opportunities from our student-athletes is never good.  The members of our ski teams have been tremendous student-athletes."
Scholarships will be honored through undergraduate degree or exhausted eligibility for any student-athletes that wish to continue their education at UNM provided they remain eligible in accordance with UNM and NCAA rules.  Lobo athletics will also assist any student-athlete wishing to transfer to another institution.