December 31, 2017 (Lenzerheide, Switzerland) – The USA's Sadie Bjornsen landed third on the podium in the women's 10km CL on Stage 2 for the American camp's second podium in a row at the Tour de Ski, and a career-first distance podium for the Winthrop, WA, skier. It also marked Bjornsen's third podium this season.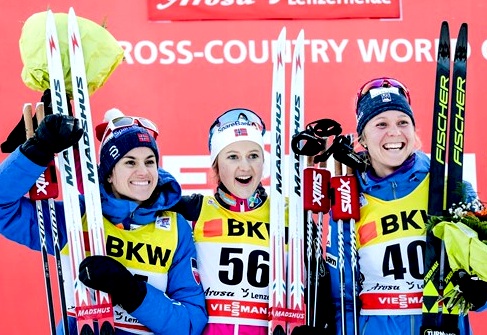 "Wow, what a dream day," said Bjornsen. "It's has been a huge goal of mine to be on the distance podium. At the 6km mark I was told by coach Matt Whitcomb that I was in 2nd. Suddenly there was a fire under my butt and I gave everything I had in the last 2.5 km."
Norway's Ingvild Flugstad Oestberg continued her winning ways in Lenzerheide taking the win over her teammate Heidi Weng in second to lead the Tour by 32.8 seconds.
It was a career-first podium for Bjornsen at the Tour de Ski as she led four US women into the points including Jessie Diggins who finished strong in seventh, Sophie Caldwell, on the podium in the opening Sprint FR, placing 21st, Liz Stephen was 28th and Ida Sargent was 30th.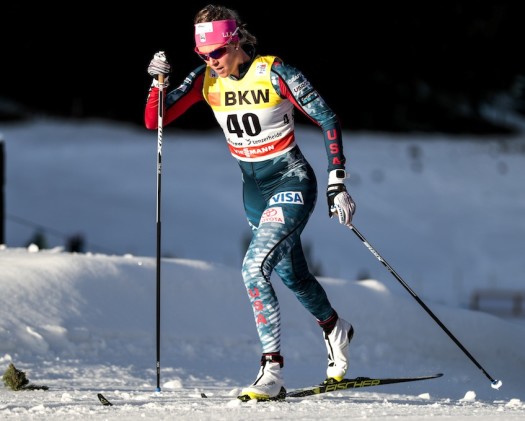 "I decided before the race I was just going to get scrappy and make it work and never give up," Bjornsen added. "I had an awesome talk with my wax tech, JP, right before the start of the race, where he told me the most important thing that day was to trust what I do well, and never give up. Massive thanks to the team for great skis and congrats to our entire team for a collection of awesome races!"
Diggins echoed Bjornsen on the challenges of the classic track. "Today was such a weird and tricky day with the snow being totally different in different sections of the track," said Diggins. "But I had no doubt that Sadie would crush it – she's such a classic skiing machine and I couldn't be prouder of her! She's on fire!"
On the downside veteran Kikkan Randall did not start. "I am making some progress with my foot injury and I didn't want to set myself back with a classic race today.  Classic seems to aggravate the injury more.  It was a tough decision but the Olympics are my big goal and I still have time to get my foot healthy if I am smart over the next couple weeks.  I am looking forward to sharpening for the sprints in Dresden in two weeks," shared Randall.
The US squad now has three women in the top seven in the Tour de Ski standings – a first in Tour history. Diggins held onto fourth, Bjornsen moved up to fifth and Caldwell sits 7th overall. Next up is the 10km FR Pursuit.