December 02, 2017 (Lillehammer, Norway) – American Sadie Bjornsen took home her second podium this season after topping the qualifications landing third on the women's 1.3km CL Sprint podium in Lillehammer.
Maiken Caspersen Falla (Nor) powered away from the field on the final climb for the win with a 2.07-second margin over second-placed Krista Paramkoski of Finland. For Falla it was an excellent rebound after the frustrating opening weekend in Ruka where she failed to qualify in the sprint.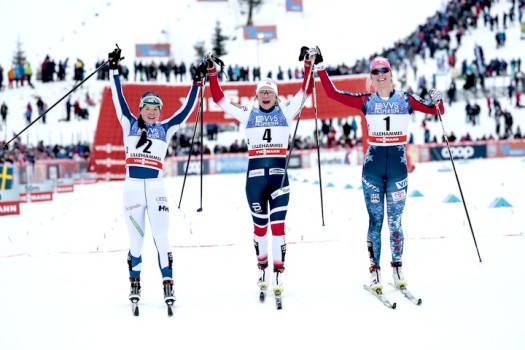 The USA's Jessie Diggins also made the final finishing 6th while teammate Sophie Caldwell was 9th. The top Canadian was  Emily Nishikawa in 58th with fellow Canuck Dahria Beatty in 59th.
"Today was another really awesome day of ski racing here in Lillehammer. After last weekend's podium, I tried to keep the momentum and confidence going, and see what I could do today. I managed to have a great qualifier, qualifying first, for the second year in a row here in Lillehammer," shared Bjornsen.
"Last year I made some mistakes jumping in behind people, so today I decided I needed to use my strengths, and that was to just go as fast as I could over the entire course, and try to "tire out" the sprinters. My quarterfinal was super hard as Heidi Weng and I really pushed the pace, and ended up having the fastest quarterfinal. Then in the semi-finals, I jumped in behind Stina Nilsson, and tried to relax a bit more over the course, and then really hammer the final climb, and double pole finish.
"The finals came really quickly, and as soon as I started, I could feel it was going to truly "hurt". I kept my head fighting the entire way, giving an extra push over the final climb despite barely being able to stand on my legs full of lactic acid. Then in the finishing stretch, thanks to an amazing pair of skis, I got a nice draft and was able to out-sprint Nilsson for 3rd place," she continued.
Diggins was also happy with her skiing. "I was so happy with today. Making the final in a classic sprint in Norway is really exciting, and gives me a lot of confidence in how my classic skiing is coming along. I've been working really hard for a long time to improve that technique so today felt really good! And our amazing skis from the techs were so much fun to have on that hard course. And of course, so so pumped for Sadie! She's killing it," wrote Diggins.
Bjornsen is pumped for what lies ahead as well. "This is my second podium in two weeks in the classic sprint, which feels really fun and awesome. With the classic sprint being an Olympic event in a few months, it feels good to get some confidence in some of the changes I have made this summer.
"I am now looking forward to the Skiathlon tomorrow, and hopefully I get a good night of sleep to freshen up my legs to fight again. I love racing here in Lillehammer with such great fans, and such a challenging, but fun course. I am extremely thankful to the waxing staff for giving me what felt like the fastest skis in the world today, and also super proud of my teammates who had a great day! It feels pretty special to have 3 girls in the top 10! That is darn exciting for a big season to come," she added.