November 24, 2017 (Ruka, Finland) – US star, Sadie Bjornsen, challenged for the win today in the women's 1.4km CL Sprint, the opening round of the FIS World Cup in Ruka, Finland batting with Sweden's top female skier, Stina Nilsson who took home the victory. Yulia Belorukova (Rus) was third. Bjornsen leads the mini-tour following her strong 5th place in the qualifications vs Nilsson in 19th.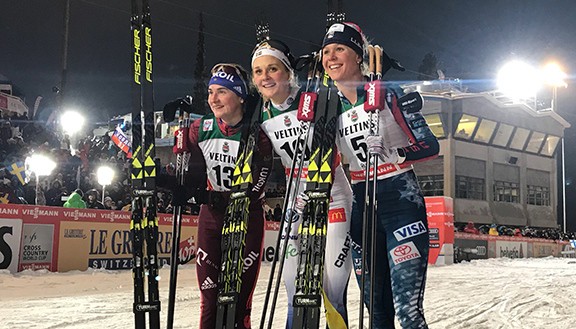 Teammate Sophie Caldwell made the top 10 finishing 8th while Ida Sargent claimed a solid 15th. Adding to the strong American results was Rosie Brennan making the points finishing 29th. Jessie Diggins did not qualify placing 34th while Kikkan Randall was 36th. Dahria Beatty was the top Canuck in 64th.
The result earned Bjornsen her first career WC Sprint podium – last year she was 3rd in the 5km FR in Toblach, Italy at the Tour de Ski for a historic first podium with teammate Jessie Diggins who won. Later she and Diggins took home Team Sprint bronze at the Lahti 2017 Nordic Worlds.
"What an amazing and exciting way to start this new season. I have been feeling good for the past few weeks, but as always at the beginning of the season, you wonder where you are. Starting with the qualifier, I had great feelings. I love this course, because it is so tough all the way to the finish line, and you don't have many places to recover throughout the course. I also love how steep the climb is, it is a grade that I have always enjoyed," said Bjornsen post race.
US Head coach Chris Grover tweeted "Congrats Sadie Bjornsen on your first career WC Sprint podium. It won't be the last! @usskiteam."
"The combination of amazing skis, and great feelings made for one of my best days on skis. I am really looking forward the rest of the season, and what is to come! For sure this gives me a good level of confidence to believe in my classic skiing, and some of the improvements I have tried to make this season. Now lets see where it will be with some distance racing! Big thanks to the whole waxing crew from some incredible skis, and all the belief…let the season begin," added Bjornsen.
Results
1. Stina Nilsson (SWE) 3:17.62
2. Sadie Bjornsen (USA) 0.24
3. Yulia Belorukova (RUS) 0.91
4. Ida Ingemarsdotter (SWE) 2.72
5. Kathrine Rolsted Harsem (NOR) 3.54
6. Krista Parmakoski (FIN) 18.62
Qualifications here
Final results here or PDF here.
Mini Tour Standings after Day 1
1. Sadie Bjornsen (USA) 2:46.6
2. Ida Ingemarsdotter (SWE) 2.0
3. Stina Nilsson (SWE) 3.2
4. Krista Parmakoski (FIN) 7.7
5. Yulia Belorukova (RUS) +7.9
Complete STANDINGS